Here at Fundrise, we aim to provide investors with optimal diversification opportunities in order to improve the risk profiles of their portfolios. In line with that mission, one key way in which we aim to help investors reduce risk is through geographical diversification.
Our investments are not constrained to a single market or region. Our team is equipped and ready to look for great deals in a range of markets all over the country — as long as they satisfy our standards for strong investment fundamentals.
While providing geographical diversification is important, we are constant in our discipline when it comes to selecting the specific states, neighborhoods, and even street corners where we invest. We look to deploy our investors' capital in areas that are relatively low risk and offer a combination of compelling demand drivers and competition barriers.
In this article, we'll explore an interesting effect of our tireless investing standards: If we were to plot the locations where we've invested on a map, they roughly form a very familiar shape — a smile.
The markets that shape the smile
Frequently known in the real estate world as "Smile States," the markets in which we seek to invest generally consist of two metro types: major urban areas clustered along the coasts (also known as gateway metros), and markets arcing across the Sunbelt (also known as growth metros).
Each of these market clusters offer a number of advantages that work uniquely in their favor when it comes to real estate, satisfying Fundrise's standards in their own important ways.
Gateway Metros
Coastal gateway metros benefit from a number of major demand drivers, such as: Areas with large, well-educated populations tend to attract major employers looking to retain and grow a workforce with specialized skills. Consider Northern Virginia in the Washington, D.C. metro area, where Amazon intends to build its new headquarters. Close to 50% of residents in the D.C. metro area aged 25 or older have a bachelor's degree or higher — one of the highest educational attainment rates in the country.
Large populations with an above-average proportion of residents possessing higher education degrees
Public transit networks and cultural amenities
Land constraints and other barriers to entry
In addition, the presence of existing major employers — and therefore experienced workforces — tends to attract additional employers both large and small, a phenomenon known as agglomeration economies. Basically, the theory of agglomeration economies suggests that large employers in specific industries tend to cluster, so that they can access a centralized (and specialized) workforce, and benefit from knowledge sharing and proximity to upstream suppliers and downstream distributors.
As examples, think tech in Silicon Valley, advertising and marketing in New York City, and entertainment in Los Angeles. Going back to the example of Northern Virginia, consider that Arlington County is already home to the offices of Deloitte, Lockheed Martin, and Booz Allen Hamilton, among others. Or the massive workforce draw provided by the thousands of career opportunities in the federal government, essentially ensuring that a newcomer like Amazon will arrive to find a significant pool of experienced, talented locals.
How does this all impact the quality and viability of surrounding real estate investments? Major employers provide both:
A large and stable population base that generates continuous demand for apartments; and
Healthy incomes for local residents, who are in turn able to support new residential development and patronize local businesses.
Robust public transit networks are another key variable, because they can potentially shorten employee commutes and facilitate access to amenities (bars, restaurants, museums, etc.). This convenience and accessibility improves quality of life for locals, another factor in driving property values. Studies have shown that proximity to a public transit station can boost real estate values by up to 42%. Survey data shows that Millennials — a major source of demand for apartments — prefer to live in places where owning a car is not necessary.
Urban cultural amenities themselves are also a major draw. After all, there's a reason why residents pay upwards of $3,000 per month for tiny apartments in places like San Francisco and New York City. These are desirable places to live, offering an abundance of restaurants, nightlife venues, and cultural institutions. This is a major reason why Millennials have been driving an urban resurgence since the early 2000s.
Finally, land constraints, zoning restrictions, and other competition barriers tend to limit the supply of developable land in coastal cities, making that land more scarce and therefore more valuable. Essentially, by making it harder for most operators to develop real estate in certain markets, these restrictions protect developers who are able to successfully penetrate these areas, since even if the project is a total bust (unlikely, given the factors mentioned above), the underlying land itself should still retain significant value due to its inherent scarcity.
Growth Metros
Growth metros — which are predominantly located across the Sunbelt — offer their own unique set of drivers that we believe make them strong places to invest: According to U.S. Census Bureau data, 80% of the top-15 cities in the country ranked by numeric population growth consist of what we refer to as growth metros. Standouts include places like Phoenix, San Antonio, Austin, Charlotte, and Jacksonville — all of which saw numeric population growth of between 12,000 and 26,000 people from July 2017 to July 2018.
Remarkable population growth
Expanding employment bases
Pleasant weather that draws residents and makes properties less expensive to maintain
There are a number of factors that render these areas desirable in terms of residents' quality of life. Warm weather and relatively low state taxes (or none at all!) are major draws, as is the relatively low cost of living. Consider that the average cost of an apartment in San Francisco is more than $3,700/month, while in Atlanta the average apartment runs at less than $1,500/month. At the same time, Atlanta still offers a host of desirable amenities, making it a relative steal for Millennials looking to reside in a city rich in cultural offerings.
Meanwhile, the trend of Millennials moving to southern states has not been lost on employers, many of whom are relocating or expanding in these areas. In 2018 the Austin Chamber of Commerce reported that nearly 50 companies relocated to the city, which translated into more than 9,000 new jobs. At the same time, stalwarts like Apple and Amazon continue to expand their presence in the area.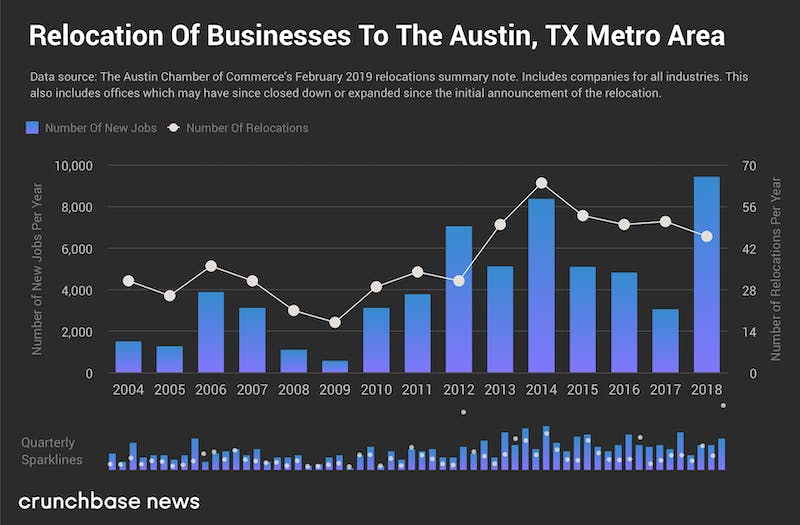 Source: Crunchbase, Tech's Major Migration to Austin, TX
A final, less commonly discussed but important point of note is that property development and maintenance tends to be less expensive in warmer climates. For one, warmer climates typically require fewer degrees of cooling than cold climates do heating, saving on both energy and the wear and tear of heating and cooling systems. Cooling mechanisms simply tend to be more efficient too.
For real estate investments, this is all-important: Warmer climates not only drive demand based on the sheer attraction of pleasant weather among everyone from young tech workers to older retirees, they also help reduce property maintenance expenses, which can further boost potential investor returns.
Two Case Studies
Gateway Metro: Elysium Fourteen in Washington, D.C.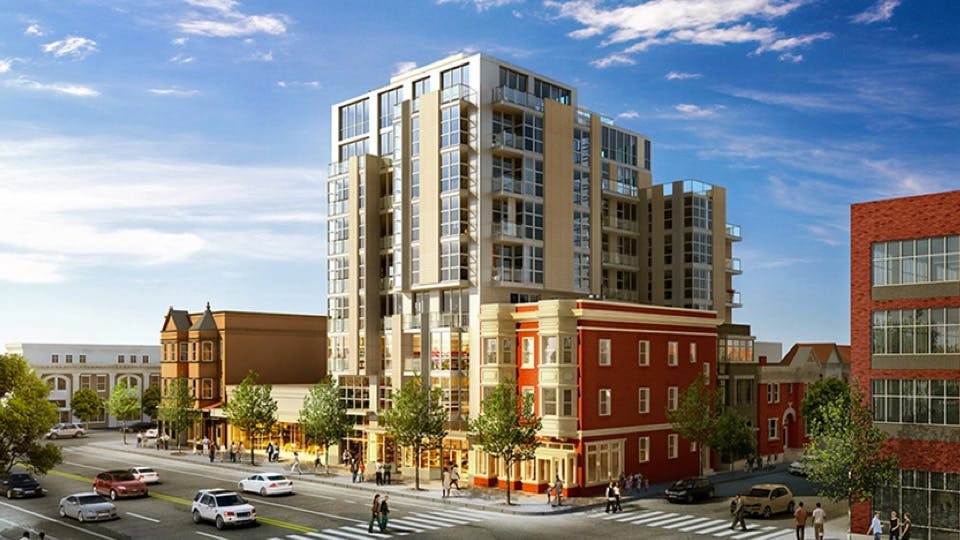 Location: Washington, D.C.
Deal Structure: Debt
Property Type: Mixed-Use
Invested Capital: Approx. $6.5M
Realized Annual Return: 11.4%
Fundrise's investment in Elysium Fourteen — a high-end, mixed-use apartment community located in downtown Washington, D.C. — speaks to the benefits of investing in high-demand, supply-constrained coastal cities.
The investment benefits from the city's large and well-compensated population base, which welcomed more than 100,000 additional residents from 2010-2018. Elysium Fourteen is particularly well-situated within a census tract that boasts a six-figure median income.
Located at the crux of the city's popular U Street and 14th Street corridors, Elysium Fourteen is a stone's throw from amenities like Trader Joe's and the U Street metro station, as well as a spate of popular bars and restaurants, and venues like the Lincoln Theatre and U Street Music Hall.
Given the city's well-developed metro system, Elysium offers easy access to virtually every part of the city, including close-in suburbs like Arlington (Virginia) — which, again, is soon to be home to Amazon's new HQ.
It also bears noting that downtown DC's limited developable land and construction restrictions (including onerous building height limits) dramatically reduce rental inventory in the area compared with what would likely exist in the absence of such regulations. This dynamic tends to reward those developers who are able to successfully bring new apartments to market. Attesting to this, rents at Elysium Fourteen now run approximately $2,250-$5,500/month.
Fundrise's investment in this asset ultimately fetched investors an average annual return of more than 11%. Even though this investment was structured as a debt-like investment (i.e. we provided financing to a developer in exchange for a fixed rate of return), we believe our investment was protected by virtue of the area's strong appeal and supply constraints. Factors like these typically protect against an erosion of property value — even in down markets — and can thereby prevent borrower defaults.
Other examples of Fundrise Gateway Metro investments:
Growth Metro: The Palms at Beacon Pointe in Jacksonville, FL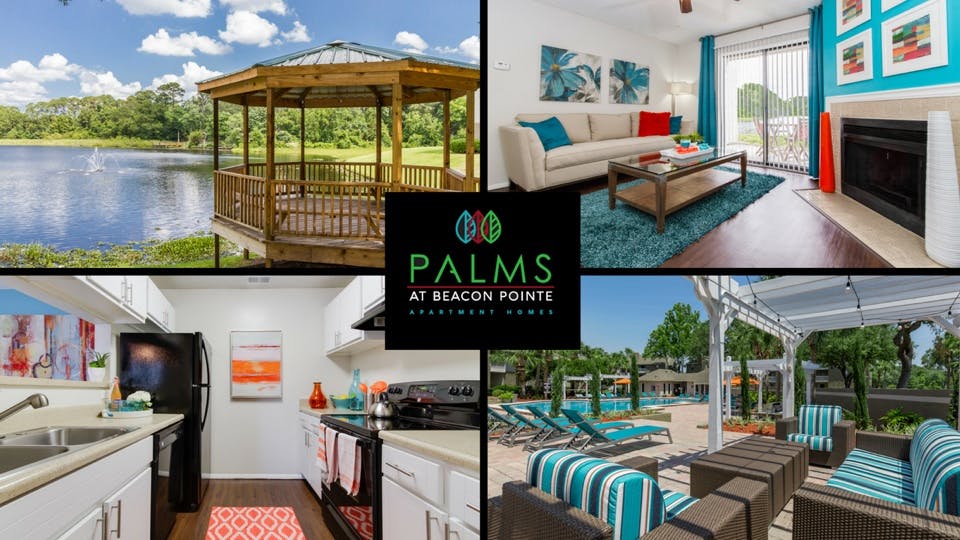 Location: Jacksonville, FL
Deal Structure: Equity
Property Type: Apartments
Invested Capital: approx. $3.5M
Realized Annual Return: 22.9%
Fundrise's investment in the Palms at Beacon Pointe — an apartment community in Jacksonville, Florida — exemplifies the reasons why we largely aim to target assets located in rapidly growing, Sunbelt communities.
In 2016, Fundrise partnered with American Landmark Apartments to acquire the Palms at Beacon Pointe, with the intent to renovate the property in order to support growing rents with high-end amenities and finishes.
Once renovations were completed the property was sold, and the combined sales profits and rental income from the asset yielded our investors an annualized rate of return of nearly 23%.
One of the keys to our success with this investment was the fact that assets in Jacksonville were — we believe — significantly undervalued in 2016, when we initially acquired the property.
According to the U.S. Census Bureau, Jacksonville ranked 7th in the country (among cities with populations of 50,000 or greater) for population growth from 2017-2018. Among Millennials specifically, the market ranked within the nation's top-20 for net migration from 2012-17.
Due to its relatively low cost of living, employer costs in the Jacksonville area — like many parts of the South Atlantic — are below the national average, which has supported employer expansions in the area and an unemployment rate that trails the overall national rate. Meanwhile, in the years since this investment, the trend continues: Fidelity National Information Services recently announced plans to add 500 well-compensated jobs to the area with its intended construction of a new 300,000 square foot HQ.
Other examples of Fundrise Growth Metro investments:
Something to smile about
Fundrise takes a nationally broad yet disciplined approach to targeting high-quality real estate assets. We consider all prospective deals on their individual merits and we pride ourselves on rigorously applying strict due diligence standards.
We believe that market selection is one of the most important criteria we consider for any deal that we underwrite. We believe that targeting assets in both coastal gateway metros and Sunbelt growth markets is a strategy that can help investors earn potentially strong returns while mitigating risk, as our assets benefit from a wide range of positive factors, without being constrained to any one area or market.
We look forward to continuing to target new opportunities in line with this strategy. To learn more, please feel free to review a complete listing of our real estate investments, both past and active, here.
If you're interested in opening your own Fundrise portfolio, where you can potentially benefit from direct access to private market real estate investments from all over the country, get started today with the Fundrise account option that best fits your investing needs. As always, if you have any questions, don't hesitate to reach out to us at investments@fundrise.com.