If you have ever been on the market for a new home, then you are likely familiar with the amount of work involved: scouting for properties, evaluating your budget and financing options, the innumerable house tours, gauging which properties score best on your checklist, securing an inspection from a trusted third party, evaluating utility costs, reviewing the land survey, and so forth. Arduous as it is, this process is even more challenging when it involves a larger scale, capital-intensive commercial real estate project where the stakes are higher. However, whether you are a veteran of real estate investing, or a novice, you take this process seriously to minimize the risk of ending up with a "lemon."
"Lemons"—a term coined by economist George Akerlof—refer to bad investments that may appear viable because of information asymmetry. Since the private real estate market is ridden with lemons, the party with better and more comprehensive information on the real estate asset and the local market often wins. Hence, a thorough and rigorous underwriting process is a pivotal part of de-risking an investment, identifying the catalysts on an excellent value-add opportunity, and minimizing your chances that the asset will underperform expectations.
What is Real Estate Underwriting?
Simply put, real estate underwriting is the process by which real estate investments are evaluated to determine their viability and potential. Subpar underwriting can result in substantial losses for investors. As a result, contrary to many of our competitors who merely rely on assumption-driven software models, Fundrise employs a proactive, holistic approach that factors in a plethora of both quantifiable data points and qualitative attributes, including market sentiment and development experience, when evaluating each prospective investment.
Prospective Deals and Preliminary Vetting
When evaluating prospective deals, we do not use a one-size-fits-all approach. Given that Fundrise invests across the capital stack (meaning we invest in both debt and equity) and in a variety of real estate asset types, we have flexibility to choose the investments we believe will produce the best risk-adjusted returns.
However, the uniquely opportunistic nature of our investment strategy means that our due diligence process must be highly differentiated and calibrated to the nuances of the deal being considered. For example, we may ascribe more weight to the vacancy history of an equity investment in a stabilized multifamily building, while focusing on the development history and creditworthiness of a sponsor when looking to acquire a senior debt position in a ground-up development.
Regardless of the seniority of our position, the phase of development, or asset type, we are always cognizant of the fact that the "jockey" is just as important as the "horse." Accordingly, both the investment property and the sponsor that owns the project are heavily scrutinized during both the preliminary vetting and detailed underwriting process for each deal.
We always begin by digging into the sponsor's credentials. In addition to assessing their credit history and comprehensively analyzing their financials, we evaluate their previous experience and track record. For example we may not consider a sponsor whose principals have less than $100 million in multifamily assets development experience, or whose principals haven't successfully completed more than five projects of similar form and value. In essence, we work only with sponsors that are well-capitalized and have demonstrated a keen ability to succeed in top US markets.
After passing the background review, the sponsor's project is then subjected to preliminary scrutiny to be sure it fits within our guidelines. We understand that sponsors can be very optimistic about the viability of their proposed project. As a result, we are very conservative with our review of their proposals. Often times, their worst-case projections are our baselines. For instance, while a sponsor may submit attractive projections for a proposed investment, our pro forma estimates are discounted and stress-tested to see how they fare in different scenarios.
Detailed Underwriting
After vetting both the sponsor and preliminary details of their proposed project, a lead underwriter is assigned. At this stage, the underwriter performs an extensive and robust analysis to make sure the project itself has a compelling risk-return profile. This stage involves site visits, a study of comparable properties, a comprehensive appraisal, a thorough budget analysis, pro-forma financial analysis, and setting up the legal/organizational structure, among other things. In conducting this analysis, the underwriter makes sure the proposed project passes the more than 350 different data points contained in our detailed underwriting checklist.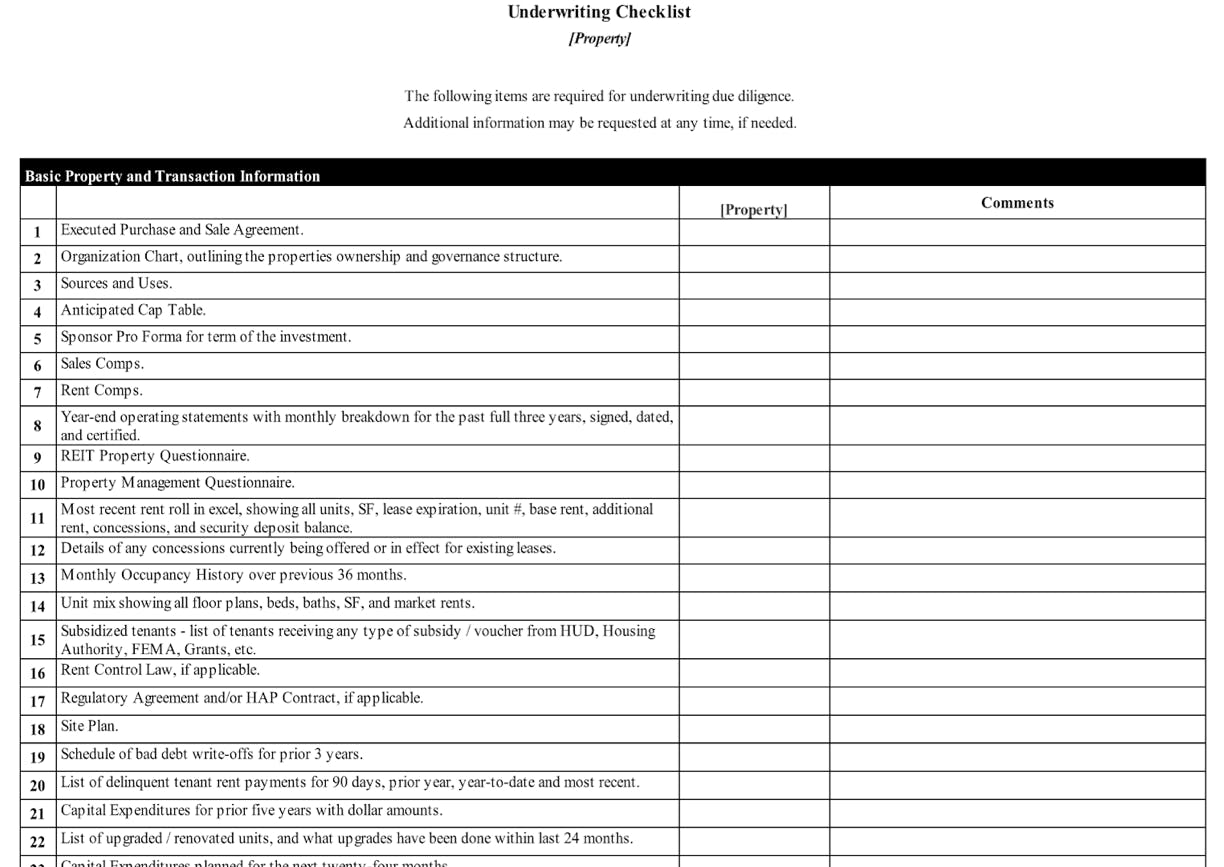 Afterward, the lead underwriter presents the project to our Investment Committee, which has over $10 billion and 100 years of combined transactional experience. Our Investment Committee reviews the proposed investment to be sure downside scenarios have been adequately considered and stress tested. Think of this as the "devil's advocate" stage of the process, wherein we aim to account for aspects of the project that could go wrong, determine whether these risks are worth taking, and how to mitigate or eliminate them where possible.
If after this rigorous process an investment is deemed to meet our requirements, then our Investment Committee approves and the project moves forward with final negotiations and closing.
At this stage, we may look to negotiate additional key legal rights in order to protect our investment. By doing so, we aim to ensure that we have the means necessary to minimize our downside risk. Some of these rights may include foreclosure rights, personal guarantees and springing guarantees from the developer (effective upon a certain condition, like a bankruptcy filing by the sponsor or fraud), ability to force the sale of the property or ability to gain control of the property by replacing the manager.
Even after so much work and negotiation, we do not hesitate to pull the plug on a potential investment if the fundamentals change or we acquire new information that negates our initial analyses.
The Takeaway
In a market full of lemons, only those that are committed to going the extra mile to proactively acquire and objectively analyze information earn superior risk-adjusted returns. Since its inception, Fundrise has maintained an intensive focus on finding small and medium-sized, high-quality investments in major urban areas throughout the U.S. and providing access for anyone to invest at a very low cost. Every investment on our platform has undergone an extensive due diligence process and has been rigorously scrutinized by our in-house team of industry specialists. We believe that our proactive, holistic, and objective approach to sourcing and underwriting deals has paid off, in that, as of June 2018, none of our investments been declared non-performing.