Fees matter. For too long, the financial services industry made a killing on bloated (and often hidden) fee structures. Today's investor, though, is more aware of the importance of careful fee management than ever.
At Fundrise, we've worked tirelessly to eliminate the industry inefficiencies, and the lack of transparency, that helped create unnecessarily burdensome fee structures. To that end, here's a frank look at the fees we do charge for all our offerings open to unaccredited investors, why they exist, and how we're working to save you more money.
Fees with a purpose
Let's start with the obvious: Fundrise charges investors a small fee for our unaccredited investor offerings — 0.15% in annual advisory fees, to be exact. This means that over a 12-month period, you will pay a $1.50 advisory fee for every $1,000 you've invested with us. For the sake of comparison, Vanguard's famously-low advisor fee is 0.30%.1
The advisory fee exists to reimburse Fundrise for the time and money that's invested on your behalf into building our industry-leading platform. Things like:
Project-level performance reporting
Automated dividend distribution system
Composite tax management
Customer support and investor relations
Asset rebalancing and fund administration
We manage all of those things, and a lot more, in-house. Our talented team of engineers, accountants, and other specialists have literally invented new ways of doing old things that save our investors millions of dollars.
Our obsession with doing everything ourselves, rather than relying on a bloated list of third-party service providers, necessitates that we charge the annual advisory fee — but it's also the main reason why our annual advisory fee is so low. Even Vanguard's fee is twice as large — an amount they refer to as "an incredibly low cost for a service."2
The future of the [real estate] investing business
We've covered advisory fees now, but it's important to note that most real estate investment companies — along with virtually every mutual fund, ETF, and REIT — incur expenses at the asset or fund level. These are often offset by investors via annual management fees.
However, because these fees occur at the fund level rather than the investor level, it's often very difficult for investors to uncover these fees. That's how, for instance, a company like Charles Schwab can claim to offer "no-fee investing" while still taking dollars out of an investor's eventual returns. (That underlined text below, from Schwab, reads, "Other account fees, fund expenses, and brokerage commissions may apply.")

It can be difficult to uncover underlying fees that may be incurred on platforms like Schwab. Screenshot from Schwab. Emphasis added.
The expenses inherent to Fundrise's funds — our family of eREITS and eFunds underlying your portfolio — are covered via an annual 0.85% flat management fee. That's $8.50/year for every $1,000 invested.
This money goes toward the ongoing operating expenses of the 100+ real estate projects in our investor portfolios. These expenses can come in the form of things like project-specific accounting, zoning, and construction.
Again, we handle virtually every piece of the real estate business in-house. Unlike our competitors, we've consolidated all of the usual real estate and financial functions. We work directly with real estate developers and operators, handle our own financials, and manage our own deals. Because there are no intermediaries, we're able to keep our expenses as low as possible.
That's how we're able to charge those who invest in our unaccredited offerings a management fee that's so low it's essentially unheard of in the real estate world.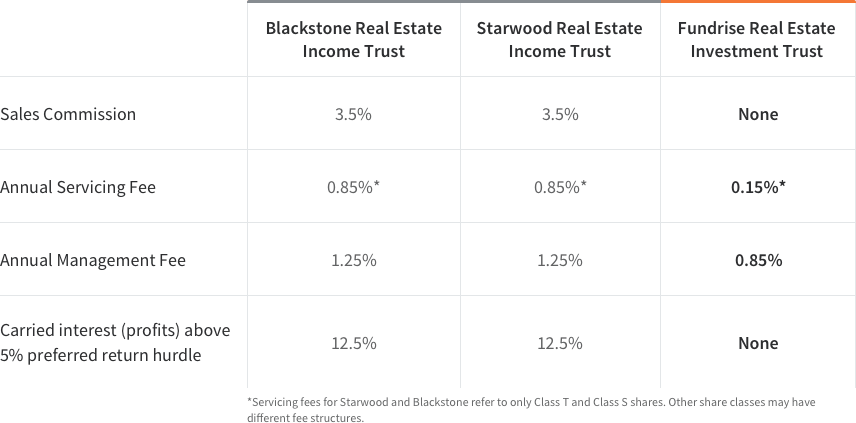 Fundrise eFunds also reserve the right to apply a Development Fee and Liquidation Fee. These are non-recurring fees applied at the fund level — not directly to investors. eFunds are our portfolios that allow investors to access for-sale housing, which is typically development intensive. These fees, rarely charged, are industry-standard, and they're what enable us to manage the large amount of work that for-sale real estate requires in-house, eliminating more costly third-party providers. Similarly, whereas eREIT projects usually cover acquisition fees with funds from outside borrowers, eFunds often pay these expenses directly.
Why we're obsessed with minimizing fees
We've shared how we use our technology and staff of specialists to execute as if we're simultaneously a real estate private equity firm, private REIT manager, and an investment advisor for tens of thousands of clients of our unaccredited offerings. But we haven't necessarily talked about why we go to such extreme lengths to maximize your earnings.
The real estate industry has been traditionally riddled with inefficiencies, from blatant mismanagement to bloated fee structures. But maybe no one noticed because (1) it's been extremely profitable, historically speaking, and (2) outdated regulations ensured that only the largest institutions and wealthiest investors could participate in the first place. What's a few dollars here and there when there are billions on the table?
Fundrise was built with a simple idea: what if anyone could invest directly in high quality real estate, without the middlemen? We knew that unlocking this world for the everyday investor would demand a nonstop stream of innovations. That's why we worked tirelessly to build the most simple, intuitive real estate investing platform ever. It's also why we work so hard to flush out industry inefficiencies and use every tool at our disposal to maximize the dollars you earn on our platform.
This sort of approach is not the norm for the real estate world, or the investing industry at large. It requires more responsibility and an intense consolidation of a long list of necessary expertise. But it's a model that puts the investor first, so we believe it offers the maximum benefit in the long run and much-needed innovation for an otherwise stale industry.
If you ever have a question about fees, or anything else related to investing with Fundrise, please reach out to our friendly investments team at investments@fundrise.com.