At Fundrise, we've combined innovative technological solutions with deep investing expertise to create a platform that offers premium private market real estate to every kind of investor.
Our platform and team do the hard work of property acquisition, maintenance, and portfolio management for you — all while our assets sustain the strong investment performance that real estate is famous for.1
However, we know that any investment represents an important decision by the investor. With that in mind, we've put together this short guide, helping you understand some of the most important elements of the Fundrise investment experience.
How does it work?
Fundrise lets you invest in real estate with all the efficiency and speed that you've come to expect from tech solutions in other areas of your life.
It typically takes less than 5 minutes to create an account and begin investing with Fundrise.
Sign up: Open an account via our website or mobile app.
Select an account level and plan: Depending on your goals and initial investment amount, you select an account level (Starter, Core, or Advanced) and potentially an investment plan (Long-Term Growth, Supplemental Income, or Balanced).
Receive a portfolio: Fundrise builds you a dynamic portfolio with dozens of projects that match your desired investment profile.
Manage your account: You can painlessly monitor and manage your investment from your information-rich Fundrise dashboard. Here you can view your real-time returns, read in-depth project updates, set account goals, set up auto-invest, make manual subsequent investments, and more.
Earn cash: We deposit all returns you potentially earn directly to your connected bank account. You can also choose to automatically reinvest any potential dividends as they accrue.
What's unique about Fundrise's offerings?
Private real estate investing — more specifically, real estate private equity — has powered the world's largest portfolios for decades. For example, an estimated 28% of large U.S. pension funds and 52% of large U.S. endowment funds are dedicated to alternative assets like private market real estate.2 Real estate private equity firms like Blackstone have subsequently amassed hundreds of billions of dollars in assets under management from these massive institutional investors.
But that level of private real estate investing was fee-ridden, tech resistant, and — crucially — inaccessible for everyone but the wealthiest, most well-connected investors.
Fundrise has paired smart technology with deep real estate expertise to offer the same type of investment opportunity to everyone, regardless of net worth — all while minimizing fees, increasing transparency, and improving long-term return potential.
How does an investment potentially earn returns?
Real estate investments typically generate returns in two forms:
Dividends (Income) — Revenue generated on an ongoing basis through a reliable cash flow, like tenants paying rent. Fundrise investments have historically paid out earned dividends to investors on a quarterly basis. Many Fundrise investments contain properties that produce cash flow of this kind, and those investments generally distribute the returns they produce every calendar quarter, as dividends (although quarterly distributions are not guaranteed). Investors who are interested in earning a new stream of passive income can prioritize cash-flow-generating real estate with the Supplemental Income plan. You can learn all about dividends here.
Appreciation — The increase of a property's overall value over time. Appreciation isn't realized and liquid until the property itself is sold. All Fundrise real estate is acquired with the intent of earning returns through its eventual appreciation, even while it potentially simultaneously produces dividends. Investors on Fundrise interested in leveraging a longer time horizon to maximize their overall returns can do so with appreciation-focused properties through the Long-Term Growth plan.
What are the properties like?
Fundrise portfolios contain both residential and commercial real estate deals, including single-family and multi-family rental properties, for-sale housing, hotels, retail space, and office buildings. Learn more about all of the individual properties here.
We have an in-house team of real estate professionals who personally identify, analyze, and underwrite all of our real estate deals. Our ability to identify high-quality, opportunistic investments is at the core of our platform's historical success. Only a fraction of the properties we see meet our selective standards — we typically accept less than 1% of the thousands of potential deals we review every year.
As a result, our portfolios and investment plans offer genuine and deep diversification. The number of properties held by your portfolio generally depends on the account level you've opted into — in some cases, a portfolio's holdings can approach 100 distinct pieces of real estate. Our investment experience is uniquely designed to help investors of any level follow a constant path forward, toward a truly sophisticated portfolio, packed full of the kinds of investment properties that have helped the country's most successful investors build lasting wealth for decades.
Does Fundrise charge fees?
One of the keys to our business model is our ability to ruthlessly minimize fees by eliminating typical industry inefficiencies. We've used our improved technology and in-house teams of experts to achieve the following fee structure for our plan-based offerings, unmatched in our industry:
Fundrise charges an annual advisory fee of 0.15%. An investment of $1,000, for example, would pay $1.50 per year in fees. For the sake of comparison, Vanguard's famously-low advisor fee is 0.30%.
The expenses inherent to our management of funds' day-to-day operations are covered by an annual 0.85% flat management fee. That's $8.50/year for every $1,000 within the fund. Typical real estate investment management fees range from 1%-1.25%.
Unlike most real estate investment entities, Fundrise charges ZERO sales commission, transaction, or carried interest (sponsor promote) fees for its plan-based offerings.
Here's a comparison of Fundrise's fee structure with those from Blackstone and Starwood for comparable investment products: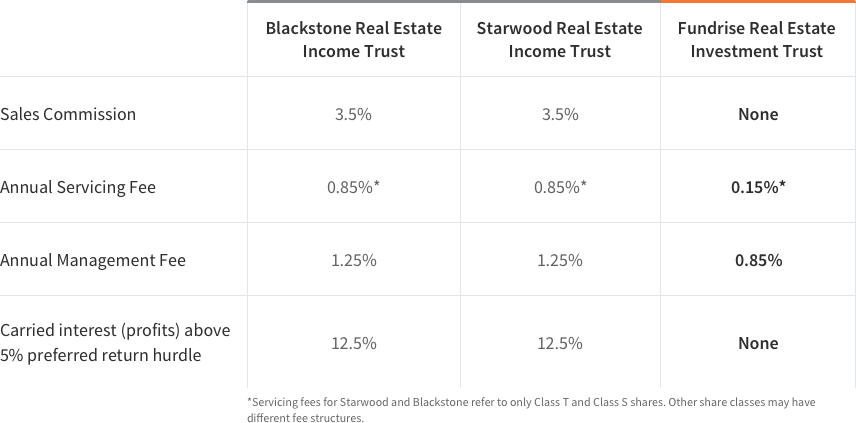 You can learn more about why we charge fees at all, how we save investors money, and why we believe our model is the future of real estate investing here. For details on other situational, potential fees that may be borne by the individual funds, please see the disclosure in each offering document available at fundrise.com/oc.
How does withdrawing money work?
Important: In order to protect the entire Fundrise investor community, we may suspend redemptions during periods of extreme economic uncertainty.
Private market real estate is a naturally illiquid asset class. Unlike securities such as public stocks, this kind of real estate doesn't have an "always-on" market where buyers are readily available and sales can be facilitated in a matter of minutes.
For those reasons, Fundrise's platform is designed to best serve investors who hold their investments over a 5+ year timeframe. We plan for our funds to liquidate their underlying assets only when we have the right market conditions — ideally when sales will deliver favorable returns to our investors, and hopefully never when those sales would be forced and undervalued. That timing is inherently unpredictable.
However, since we understand things can come up in life that may prevent our investors from remaining invested for the full term, we have historically worked hard to provide a plan that lets investors request to redeem their shares early, subject to certain conditions and limitations.
Here are a few key details about how that policy works:
If investors want to redeem their shares, they can place a redemption request at any time. After the request is submitted, we typically process those requests quarterly for the eREITs, and monthly for the eFunds after a minimum 60-day waiting period.
However, any redemptions processed before an investment is five years old will be subject to a penalty. After five years, investors can request to redeem their shares at any time for their full value, with no penalty applied. The full penalty structure looks like this:

It's important to note that while under normal market conditions we seek to provide our investors with liquidity through the redemption plan, during a financial crisis, investors should expect us to pause the redemption plan long enough to allow enough time for whatever events may unfold. You can learn more about how Fundrise may act in a financial crisis here.
For complete details about our redemption policy, please see our offering circulars, available at www.fundrise.com/oc.
Is there a mobile app?
Yes! Fundrise's iPhone and Android apps are now available. The app includes the Fundrise experience from sign-up and account creation to initial investment, to reinvestment, to ongoing management and monitoring of your account. This degree of ease-of-use and convenience is a true, ground-breaking first for private market real estate.
Will there be different kinds of investment products and experiences in the future?
While we can't speak directly or definitively to future plans here, our company's history has been defined by our dedication to innovating in meaningful ways, resulting in new, powerful investment opportunities that serve you, the investor.
Over the past several years, a few of our important innovations have included:
eFunds — Our funds specially designed to target and invest in for-sale housing, currently available to investors who open accounts at the Advanced level or higher and select one of our "plus" plans.
Real-time performance reporting — In late 2018, a major update to the Fundrise platform introduced new features such as time-weighted returns, an improved "Positions View," and detailed activity breakdowns for every individual investor. As far as we know, our platform is the first ever to provide reporting at this depth for private market real estate investments
The Fundrise iPhone and Android app — With the Fundrise app, you have the power to manage your investment on the go — anywhere, anytime.
Where can I contact you?
Our Investments Team is our in-house department of experts dedicated to helping you understand Fundrise, the opportunities driving private market real estate, and your investments placed through our platform.
You can reach them by email at any time, at investments@fundrise.com. We'll get back to you as quickly as we can.
How do I get started?
Now that you've learned some of the important Fundrise basics, you might want to get started with a portfolio of your own.
If so, you can open your account here and start your journey toward becoming a real estate investor.