This article is part of our larger real estate investing guide available here.
For many, real estate investing is uncharted territory. Unlike stocks and bonds — often called "traditional assets" — real estate is considered an "alternative asset," historically expensive and difficult to access and afford — until recently.
But just because investing in real estate may be an unfamiliar investment opportunity doesn't mean that it should be avoided. Real estate can offer a lucrative and reliable way to earn substantial returns over both the near term and long term. And it can supplement your portfolio with unique benefits including portfolio diversification, and tax advantages (as discussed below).
Despite obvious upsides, investing in real estate can seem intimidating without an obvious starting point. That doesn't have to be the case, though. In this article, we discuss the fundamentals of real estate investing, including eight different ways that you can get started right away.
So, first things first: what is real estate investing?
What is Real Estate Investing?
Real estate investing is the purchase, ownership, lease, or sale of land and any structures on it for the purpose of earning money. Real estate generally breaks down into four categories: residential, commercial, industrial, and land.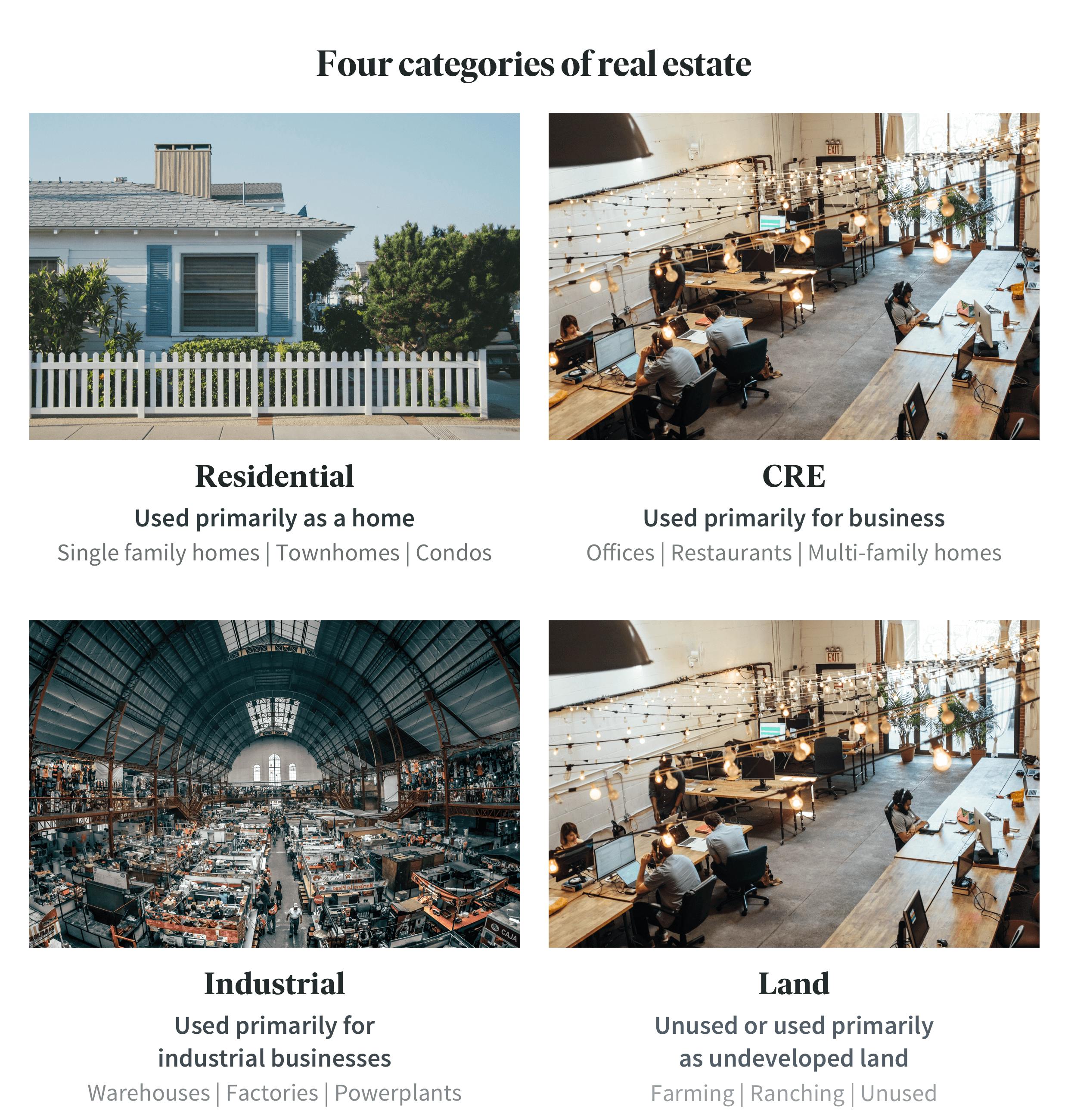 Residential real estate: Residential real estate consists of single-family homes, multi-family homes, townhouses, and condominiums. Occupants may rent or own the properties that they live in. Homes larger than four units are generally considered commercial property.
Commercial real estate: Commercial real estate is property that is used for the purpose of business. Commercial real estate is classified as office space, retail space, or multi-family homes. Some examples of commercial real estate properties include business offices (office), restaurants (retail), and large apartment buildings (multi-family).
Industrial real estate: As the name suggests, these properties serve an industrial business purpose. Some examples include shipping or storage warehouses, factories, and power plants.
Land: Land generally consists of undeveloped property with no structures on it. There are limited ways to earn money from land as an investment. Landowners can earn money through land usage, such as agriculture, or upon the development or sale of the land.
In addition to property types, there are three main ways to make money from real estate investments: interest from loans, appreciation, and rent.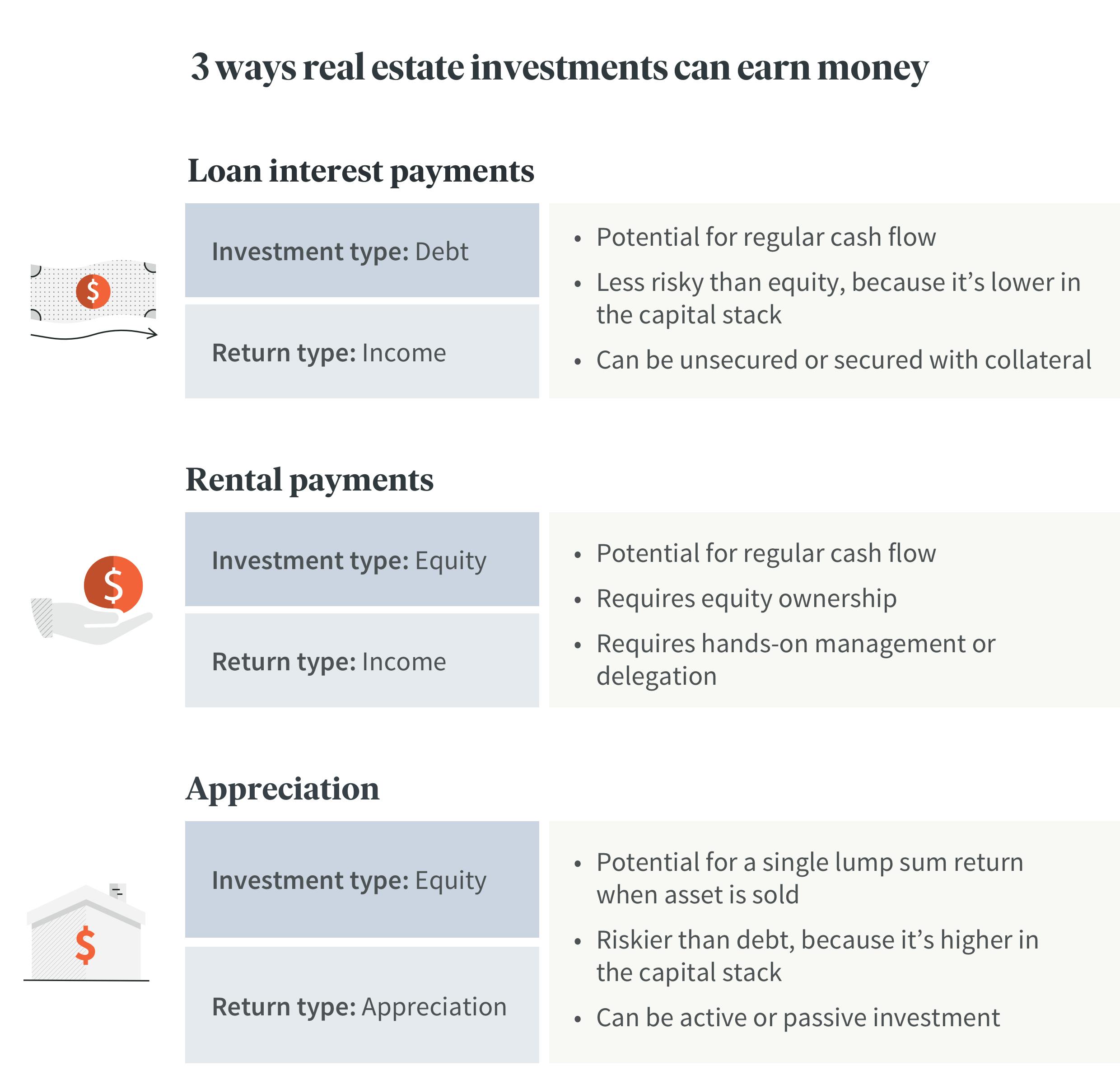 Interest from Loans (or, in the parlance of real estate, "debt"): A real estate loan is an arrangement where investors lend money to a real estate developer and earn money from interest payments on the principal of the loan. Debt investing can provide regular cash flow for an investor. Depending on the number of lenders, there can be one or several types of debt within the capital stack of loans. Types of debt include senior debt, junior debt, and mezzanine debt. Debt can also be secured or unsecured. This distinction defines an investor's rights in the event of a property's foreclosure upon the default of a loan. A loan is a type of passive investment used by private equity firms, REITs, and real estate investment platforms. Interest payments may offer a way to earn passive income from real estate investments.
Appreciation: As with the ownership of any equity, real estate ownership gives an investor the ability to earn money from the sale of that equity. The appreciation, or increase in the value of a property over time, represents the potential profit available to an investor when that property is sold. Unlike debt investments or rental income, a sale provides one large, single return. Equity can generally be categorized as preferred equity or common equity. Equity ownership can be an active or passive investment depending on the position of the investment within the capital stack.
Rent: A property can be leased by owners to earn income from rental payments. As with the income generated from a debt investment, rental income can provide a regular income stream. Depending on how a property owner manages their real estate (whether independently or through a hired property manager), they may keep all of their earnings or share earnings with a property management company. Rental payments may offer the potential for passive income depending on the investment method.
Each category of real estate and type of investment carries its own set of risks and rewards. Regardless of how you invest in real estate, it's important to choose investments wisely by testing the strengths and weaknesses of opportunities through a rigorous underwriting process. No matter who performs the underwriting, this due diligence process plays a vital role in determining whether an investment opportunity is financially sound and whether it can meet your financial goals.
Many investors like to use the projected rate of return as a key metric when analyzing real estate. However, more seasoned real estate investors will often turn to capitalization rate, or "cap rate," as a preferred way to assess an opportunity.
How to Invest in Real Estate
There are many ways to invest in real estate with varying amounts of money, and varying degrees of time commitment, capital, investment horizons, risk, and return potential. Some earn income and appreciation, and some only earn income. Real estate investment strategies fall into two groups: active and passive investments. Here are eight fundamental ways to invest in real estate with strategies ranging from intense, high-effort to hands-off, low-effort.
Active Real Estate Investing (Doing it Yourself)
Active real estate investing necessitates significant personal knowledge of real estate and hands-on management or delegation of responsibilities. Active investors can work as real estate investors part-time or full-time, depending on the number of their investment properties and the nature of those investments. They usually invest in properties with only one or a few owners, so they shoulder quite a bit of responsibility in ensuring the success of an investment property. Because of this, active real estate investors need a deep understanding of how to invest in real estate, including financial acumen, and negotiation skills to improve their cap rate and overall return on investment.
Property-Flipping
House-Flipping
House-flipping is the most active, hands-on way to invest in real estate. In a house flip, an investor purchases a home, makes changes and renovations to improve its value in the market, and then sells it at a higher price. House-flipping is generally a short-term investment, because the longer the investor owns the home without leasing it to tenants, the more their expenses add up. This eats away at their return potential when they sell it. Investors can repair or renovate the home to increase its sale price or sell it without making any repairs when its value in the housing market increases due to outside factors.
If you watch HGTV, then you've probably watched a house get transformed in under 30 minutes and sold for a sizable profit by house-flipping professionals. In these shows, house-flippers buy a home that they believe to be underpriced, add value through renovations — such as replacing countertops or flooring, or tearing down walls to change floor plans — and then sell the home at a higher price to turn a profit.
While house-flipping is exciting, it also requires deep financial and real estate knowledge to ensure that you can make over the home within time and budget constraints to ensure that you make money when the home is sold. The success — and the financial burden — of a house flip falls entirely on the investor. You need enough cash to afford a down payment and/or good enough credit to secure a home loan in order to buy a property before another flipper does. It's a high-pressure and high-stakes real estate investment that makes for great TV, but a good investment opportunity only for certain knowledgeable investors.
Wholesaling
Another property-flipping strategy is wholesaling. Wholesaling is when an investor signs a contract to buy a property that they believe is priced below market value and then sells that contract quickly to another investor at a higher price for a profit.
Most often, wholesalers seek out properties in need of renovations and sell them to house-flippers who are willing to perform the renovations to add more value to the property in order to sell it at a higher price. An investor will sign a contract to buy a property and put down an earnest money deposit. Then, they quickly try to sell the home to a house-flipper at a premium, earning a profit. Essentially, a wholesaler gets a finder's fee for brokering a home sale to a house-flipper. However, unlike traditional property brokers, a wholesaler uses their position as the contracted homebuyer to broker the deal.
Wholesaling is a risky venture, also requiring real estate and financial expertise. It demands sound due diligence and access to a network of potential buyers in order to sell the property within a short timeframe at a profitable price. Otherwise, like house-flipping, you risk not earning a profit or, worse, losing money.
Rental Properties
Rental properties need hands-on management, too, but they have a long-term investment horizon. Any type of property (residential, commercial, or industrial) can be a rental property. Property owners earn regular cash flow usually on a monthly basis in the form of rental payments from tenants. This can provide a steady, reliable income stream for investors, but it also requires a lot of work or delegation of responsibilities to ensure that operations run smoothly.
First, you must find tenants for your property. This may be easy or difficult depending on your property type and resources available for finding tenants. You are also responsible for performing background screenings for prospective tenants (if you choose to) and for providing legally sound lease agreement contracts to tenants. For each month that you do not have a tenant, you miss out on income from your investment.
Once you have tenants, you have quite a bit more resultant duties. As a landlord, you are responsible for rent collection, property maintenance, repairs, evictions, record-keeping, and ensuring compliance with all applicable federal, state, and local laws at all times. Depending on the number and size of rental properties that you own, property management can be a part-time or full-time job.
Some real estate investors who don't want to handle the management of a property contract a property management company for a fixed fee or percentage fee of earnings. This takes some weight off an investor's shoulders, transforming the real estate into more of a passive investment. However, this tradeoff also means that an investor cedes some control of their properties and loses a portion of their monthly income.
Short-Term Rentals
Short-term rental properties allow residents to rent out their homes on a nightly basis, usually as an alternative to a hotel. Short-term rentals are similar to rental properties, but they are specific to residential properties and usually only available for short-term periods. Unlike traditional rentals, short-term rentals, typically powered by companies such as Airbnb and VRBO, let you rent out a portion or the entirety of your home. Residents earn money by renting their property by the night, which can provide regular or irregular cash flow, depending on the demand of the property within its specific market. Property owners are responsible for furnishing and maintaining the home for renters.
Short-term rentals usually require much less expertise and supervision than traditional rentals for several reasons. Third-party websites, such as Airbnb and VRBO, facilitate the booking of the rental property and create the contract agreement between the property owner and renter. Because third-party companies manage several components of the rental process, short-term rental properties can be a part-time job or side hustle.
While short-term rentals can be a lucrative solution to the spare bedroom in your home, before listing, it's important to be well-acquainted with the laws governing short-term rentals in your area. Apartment managers can ban renters from listing a leased apartment as a short-term rental. Homeowner associations have the power to ban short-term rentals, and in some cities, such as New York and Los Angeles, there are existing restrictions against types of short-term rentals. And, even as a short-term landlord, it's important to make sure that you're prepared to handle any possible headaches that may come up hosting short-term renters.
Passive Real Estate investing (The Hands-Off Way)
Passive real estate investing offers opportunities to invest in real estate for everyone: those with extensive real estate and financial knowledge and those with limited or no expertise. Passive real estate investors typically provide only capital and allow professionals to invest in real estate on their behalf. As with stocks and bonds, they're only responsible for their own investments and not the fund at large. In general, passive real estate investments offer a greater potential for passive income than most active real estate investments, which typically require more hands-on management.
Private Equity Fund
A private equity fund is an investment model where investors pool their money together into a single fund to make investments in the private market. They are usually limited liability partnerships with a designated manager or management group. While the manager actively manages the fund's investments, investors are not required to be directly involved on a regular basis. However, as an investor, it is important to have the financial and real estate knowledge necessary to understand and assess the risks and potential returns of each investment, because investment minimums are generally quite high.
Access to private equity funds is generally limited to accredited and institutional investors with a high net worth. Investment minimums can vary, but are usually not less than $100,000. Private equity funds typically use a "two and twenty" model, in which they charge a 2% annual management fee and an additional 20% fee on any profits that the fund earns beyond a specified return. Private equity funds are generally illiquid as well, and therefore limited to investors who can afford to tie up large amounts of money for long periods of time.
Real Estate Mutual Funds
Also structured as a pooled fund, a mutual fund is an investment vehicle structured as a company, which pools its clients' money together and invests on their behalf. Rather than owning assets directly, mutual fund investors own shares of a mutual fund and the fund itself owns the investments that it acquires and manages. Mutual funds can earn investors returns in the form of dividends during ownership and appreciation upon the sale of fund shares.
Real estate funds generally invest in investment vehicles that own real estate, such as real estate stocks or REITs, but can also invest directly into real estate assets. They can also focus on any type of real estate or offer a mix of residential, commercial, and industrial.
Unlike other funds discussed thus far, mutual funds typically invest in publicly traded assets, which offer high levels of liquidity. Mutual funds are structured as passive investments requiring only capital from their investors and many also carry a low investment minimum. Due to these characteristics, real estate funds offer ordinary investors a way to access professionally managed real estate investments.
However, because they hold publicly traded assets, the net asset value of their shares can be highly correlated to the movements of the stock market rather than tied to the value of the assets that they own. As a result, mutual funds are one of the most volatile real estate investment strategies.
Investment minimums, fee structures, portfolio allocation also vary by fund. Securities Exchange Commission (SEC) regulations require mutual funds to allocate at least 80% of their assets to the investment type that's implied in the name of the fund. But, a fund's name can be deceptive, and mutual funds are legally able to invest across industries and asset classes. It's important for investors to understand which assets compose a mutual fund as well as the costs and fees that come with it.
REITs
A real estate investment trust (REIT) is a company that makes debt or equity investments in commercial real estate. Generally, REITs offer a portfolio of income-producing real estate to investors. Investors buy shares of the REIT and earn income from its debt and equity investments in the form of dividends. Like mutual funds, REITs were created as a way to give ordinary investors public access to real estate investments. By law, a REIT must earn at least 75% of its gross income from real estate and invest at least 75% of its assets in real estate. Additionally, it must distribute at least 90% of its taxable income to shareholders each year.
Today, REITs can be categorized according to investor access in three ways: private REITs, publicly-traded REITs, and public non-traded REITs.
Private REITs aren't registered with the SEC and aren't publicly traded on the stock market. They're similar to private equity funds in many ways: They are usually limited to accredited investors who have a high net worth, and while minimums are subjective, they are usually quite high. Private REITs also generally carry high fees, sometimes as much as 15%. Lastly, they are generally illiquid, which restricts access to those who can afford to invest large sums of money for long periods of time.
Publicly-traded REITs are registered with the SEC and traded on the stock market. Unlike most real estate investments, these are highly liquid with no investment minimum other than the price of the share, so investors can buy and sell them easily. While public REITs offer the greatest access, because they are correlated to the public markets like mutual funds, they are one of the most volatile real estate investment strategies.
A public non-traded REIT is somewhat of a hybrid between a publicly-traded REIT and a private REIT. They are registered with the SEC, but not traded on the stock exchange. Access can be open or restricted and their investment minimums can vary. They are usually illiquid and can carry high investment fees, but this is not always the case.
Online Real Estate Investment Platforms
Online real estate platforms pooled investments are a relatively new strategy. They invest in real estate investment opportunities that would otherwise be difficult to find or out of reach on an individual level. Real estate platforms offer investors the ability to invest in individual assets or a diversified portfolio of real estate. Some offer access only to debt investments and others offer both debt and equity investments. And, some focus on a specific city or region and others invest across the country. Many real estate investment platforms carry restrictions, such as accreditation requirements and high investment minimums, but not all do.
For example, Fundrise pools investments from more than 100,000 investors of all sizes and leverages their collective buying power to invest in real estate investment opportunities that would otherwise be out of reach of most investors on an individual basis. The Fundrise real estate team has invested in more than $4.9 billion worth of real estate on behalf of investors since 2012. This team invests in debt and equity, commercial and residential real estate across the US, building goal-based portfolios for investors to choose from. Unlike other more restrictive real estate investment platforms, Fundrise is open to everyone with no accreditation or net worth restrictions. In fact, anyone can invest with just $500.
While Fundrise investments are generally illiquid, and therefore best-suited for investors who can afford to tie up their investment for long periods of time, Fundrise offers investors access to a higher level of liquidity than some other private market options through redemption plans, subject to certain restrictions and limitations.*
What are the Tax Consequences of Real Estate Investing?
Real estate taxes can vary by investor because like other earnings-based taxes, individual considerations are taken into account. Determining how much taxes are owed and when they are taxed can vary for each investor. Several factors, including investment vehicle, holding vehicle, work income among other factors are taken into consideration.
It's not hard to see how taxation can become very complicated very quickly. But when done well, some real estate investments can offer substantial tax savings. If you need help navigating your options, you should speak with your financial adviser.
While individual circumstances impact taxation significantly, the principles of real estate taxes are largely straightforward. Returns earned from real estate investments will generally fall into two categories: income or appreciation. Generally speaking, income earned from real estate is subject to an income tax and appreciation is subject to a capital gains tax.
Income Taxes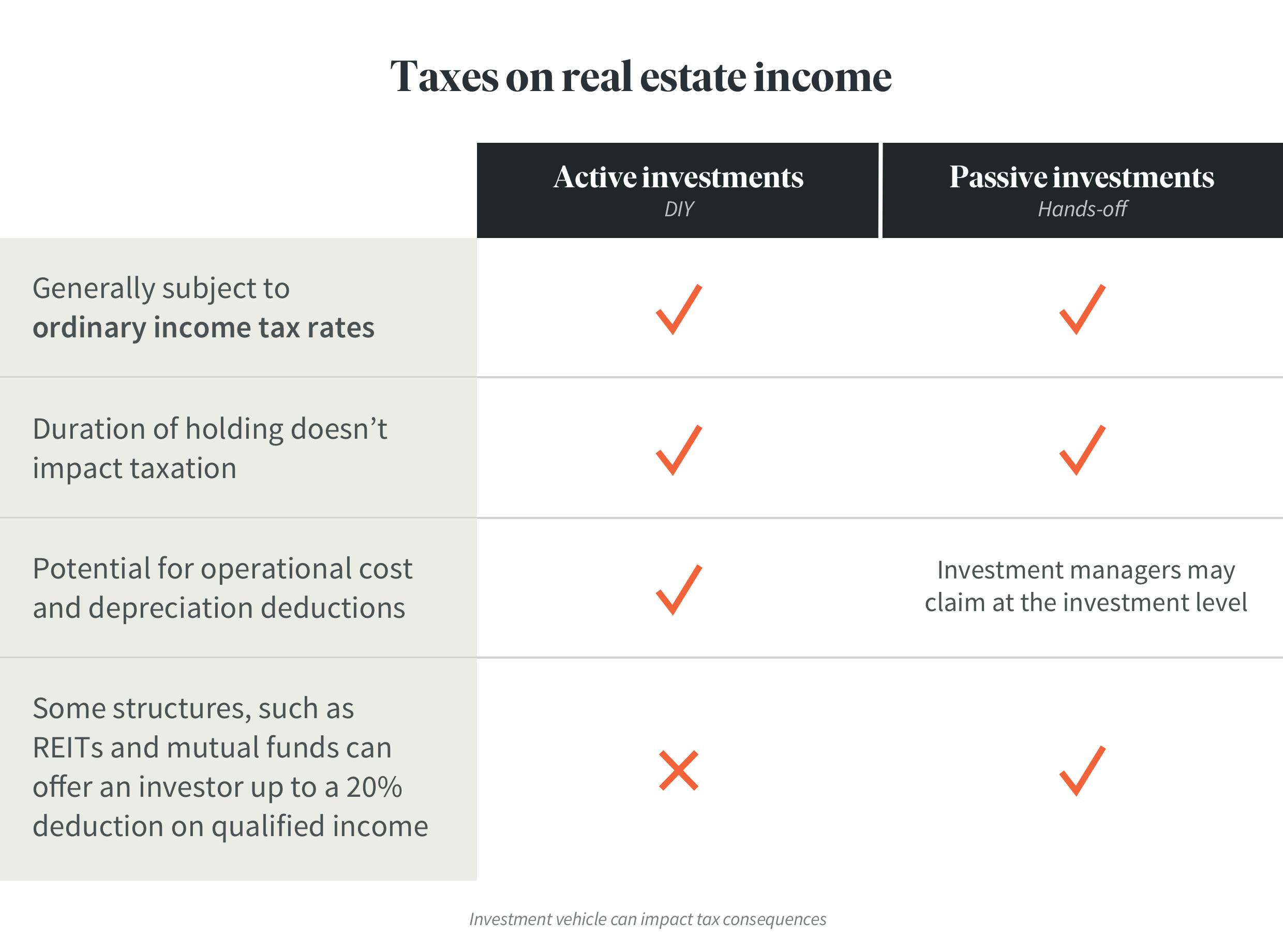 Active Investments
Several of both the active and passive investments that we've discussed are capable of earning income. Active investments, such as rental properties (both traditional and short-term) can earn income through rental payments. Taxation of that income depends on several factors, but in general, income earned through a rental property is taxable annually and subject to ordinary income tax rates.
As an active investor, the property owner can likely claim deductible expenses incurred throughout the year in maintaining and repairing the property, such as property taxes, insurance, and maintenance costs, thus reducing the total amount of taxable income. Depreciation costs, which can include property improvement costs, can also be claimed to reduce tax liability further, but rental property owners will likely face income taxes on their depreciation recapture upon the sale of the property in addition to capital gains taxes.
Passive Investments
Most passive investments can also earn income, typically in the form of passive income, and this income can be distributed in several ways depending on the structure of the investment. Investors who hold real estate investments through stock ownership, such as mutual funds or REITs, can receive income payments through dividends, which are distributed according to the number of shares owned.
Other structures, such as private equity funds, can distribute partnership income according to the percentage of the partnership owned by the investor. Partnerships also allow partners to claim deductions for expenses and losses in proportion to ownership and role within the partnership, but tax implications vary by partnership.
Because passive real estate investments aren't owned directly by the investor in most cases, the structure of the investment can have significant tax implications for investors. For example, income earned in a partnership is taxed on the individual investor's tax return, and not at the partnership level. Likewise, income distributed to REIT and mutual fund investors is taxable only at the investor level and not the fund level as long those funds meet the legal requirements to qualify for their elected structure.
Mutual funds and REITs can carry an added benefit: As of 2018, investors who receive income distributions from pass-through entities, such as mutual funds and REITs, can access up to a 20% deduction on qualified business income annually. Offerings, such as eREITs, which are included in Fundrise investment plans, can offer investors access to this income tax advantage.
Capital Gains Taxes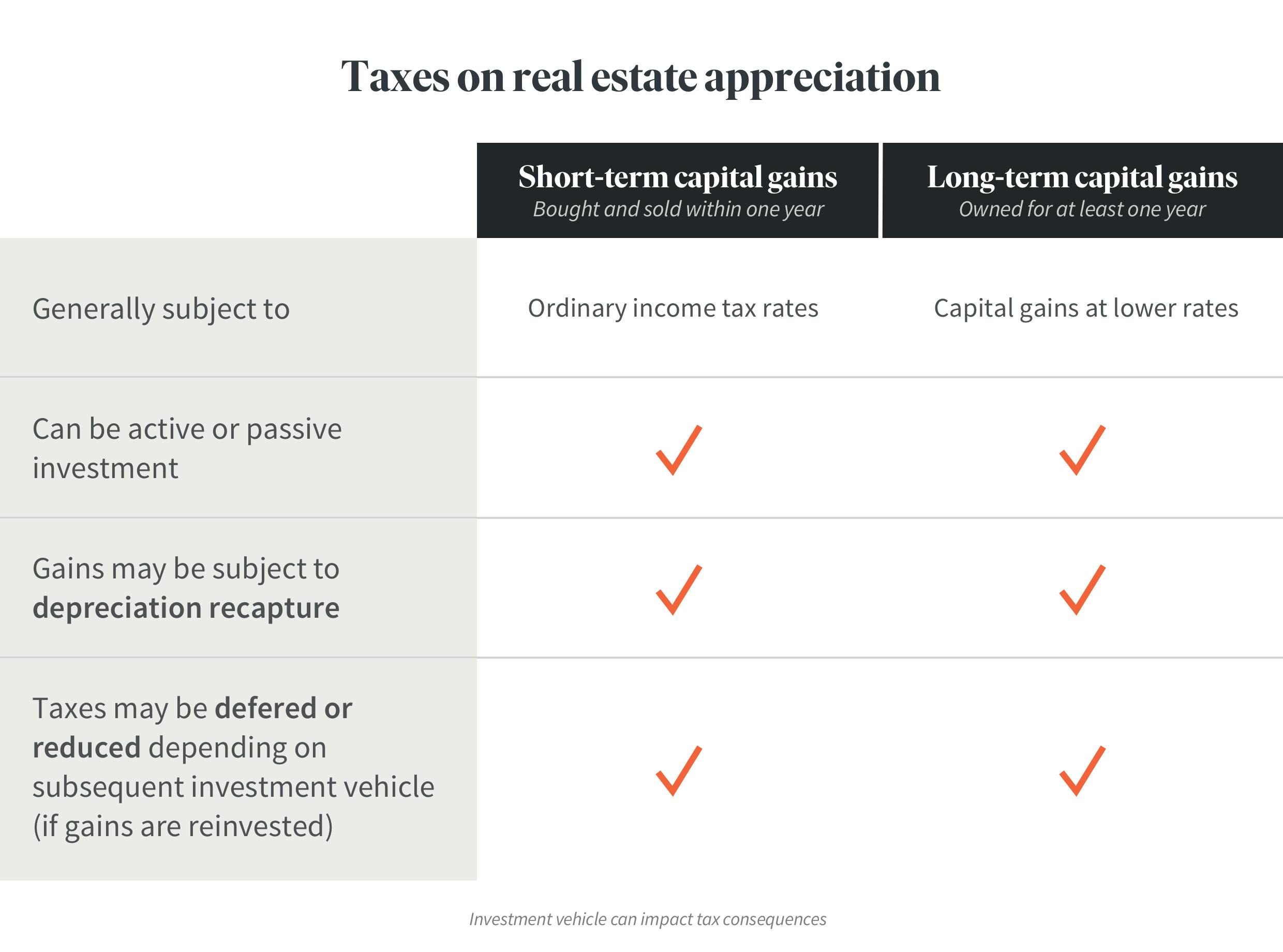 Appreciation is realized when an investor sells an equity investment whether it's an active or passive investment. Upon the sale of that investment, any returns earned from appreciation are considered capital gains, and subject to a capital gains tax.
The duration of ownership impacts the tax rate of an equity investment. Generally speaking, returns earned on an investment bought and sold within less than one year are categorized as short-term capital gains, and returns earned on an investment held for a minimum of one year are categorized as long-term capital gains.
Short-Term-Capital Gains
Short-term capital gains are considered part of your annual income and are taxed at ordinary tax rates. If you buy and sell an active investment, such as a rental property, within one year, your earnings will be considered short-term capital gains. Likewise for passive investments, if you buy and sell shares of a REIT or exit a partnership within one year, any appreciation will also be subject to short-term capital gains taxes.
Long-Term-Capital Gains
The taxation of long-term capital gains works a little bit differently. Like short-term gains, the adjusted profits will be taxable, but likely at a lower rate. Taxpayers at or below the 12% marginal income tax bracket will generally pay no long-term capital gains tax. Those in the 22% - 35% income tax brackets will generally pay 15%, and those in the 37% income tax bracket will generally pay 20% capital gains tax.
If you sell an equity real estate investment, whether active or passive, after a minimum of one year of ownership, any profit will be subject to long-term income taxes.
Capital gains taxes may be deferred or reduced depending on many factors, including the investment vehicle through which they were earned and how the capital gains are used after they are realized. For example, rolling over capital gains into a 1031 Exchange can defer tax liability if one investment property is swapped for another similar one, but it can't reduce or indefinitely eliminate your tax liability.
Putting it All Together
Real estate has a track record of consistency over the long term. Real estate investing offers the potential to earn significant returns and add meaningful diversification to your portfolio. When managed wisely it can become a valuable source of cash flow in your investment portfolio in addition to the long-term appreciation potential that it offers. As with any investment, real estate investments require you to understand and weigh the risks and potential rewards before beginning. Each method of real estate investing requires different levels resources.
If it fits with your goals, available resources, and personality, fast-paced, high-risk house flipping ventures may be what makes the most sense for you. If you don't have extensive knowledge and experience for that, or if you don't have a strong desire to become a landlord, you can still access the diversification benefits and earning potential of real estate. There are passive investment options, such as Fundrise, that can help you invest in real estate without shouldering ongoing obligations that fall on the shoulders of active investors.
Fundrise not only offers access to real estate in the private market, but also diversification within the asset class. You can invest in portfolios containing dozens of real estate assets diversified across commercial and residential property types, debt and equity investment structures, as well as geographically across the US according to your goal.