As we stated in our annual letter to investors published in January, we rang in the new year by introducing an upgraded version of our proprietary fund infrastructure, enabling the creation of a unified flagship product, which we intend to power the core of our investors' portfolios going forward. We believe this innovation should not only reduce the overall impact of cash drag on investor returns but also provide the potential for greater portfolio diversification over the long run.
One quarter into ramp-up, we're pleased to report significant progress toward this aim, having invested more than $110 million into real estate, totaling 846 rental units (768 existing and 78 under development) across both multifamily apartment and single-family asset classes.
For our investors, whether they've just joined the platform or have been investing with us for years, a significant portion of any funds they've added to the platform recently has likely been allocated to the new fund infrastructure. While we believe the potential returns are strong, it's important to remember that private real estate business plans take time to begin to bear fruit (if you haven't already, we suggest taking a look at our guide to how returns work on Fundrise). With that in mind, let's review what we've built together so far this year, and where we're headed in the coming months.
Multifamily apartments
While the pandemic has created uncertainty around future demand for urban apartments in expensive gateway cities like New York, Boston, or San Francisco, more affordably priced suburban apartment communities across the Sunbelt have generally experienced stable or growing demand during this period.
Prices for these assets have risen over the past 12 months; however, we believe that opportunities to invest at (or below) current market prices continue to represent an attractive proposition from a risk-adjusted return perspective.
To put this into context, we find it helpful to look at current stock prices. As of March 31, 2021, the Shiller S&P 500 price-to-earnings (PE) ratio stands at 35.7. That is to say, if you were to buy into the stock market today, you would be investing at a 2.5% annual return in terms of the actual current earnings produced by the companies whose stock you are purchasing. The only time in US history when stocks have been more expensive as a multiple of earnings was leading up to the "Dotcom Bubble crash" of 2000.
In comparison, we expect the annual current earnings of our recent apartment acquisitions to be at least 4.5% of the price we paid for the investment (this is known as the cap rate in real estate investing terms). In other words, one could argue that apartments represent a better value investment than stocks. By paying a lower price for an investment relative to its earnings, one would expect a higher income yield in the near term, as well as the potential for greater appreciation over the long term to the extent that demand increases in the future (of course, all investments involve risk and there can be no guarantees of any returns).
Each of our first two apartment investments follows a Core Plus strategy of acquiring and operating stabilized, cash flowing real estate. We expect these properties to begin generating distributions for investors in the coming months, once they've paid off typical acquisition and onboarding costs.
Recent acquisitions
As of March 31, 2021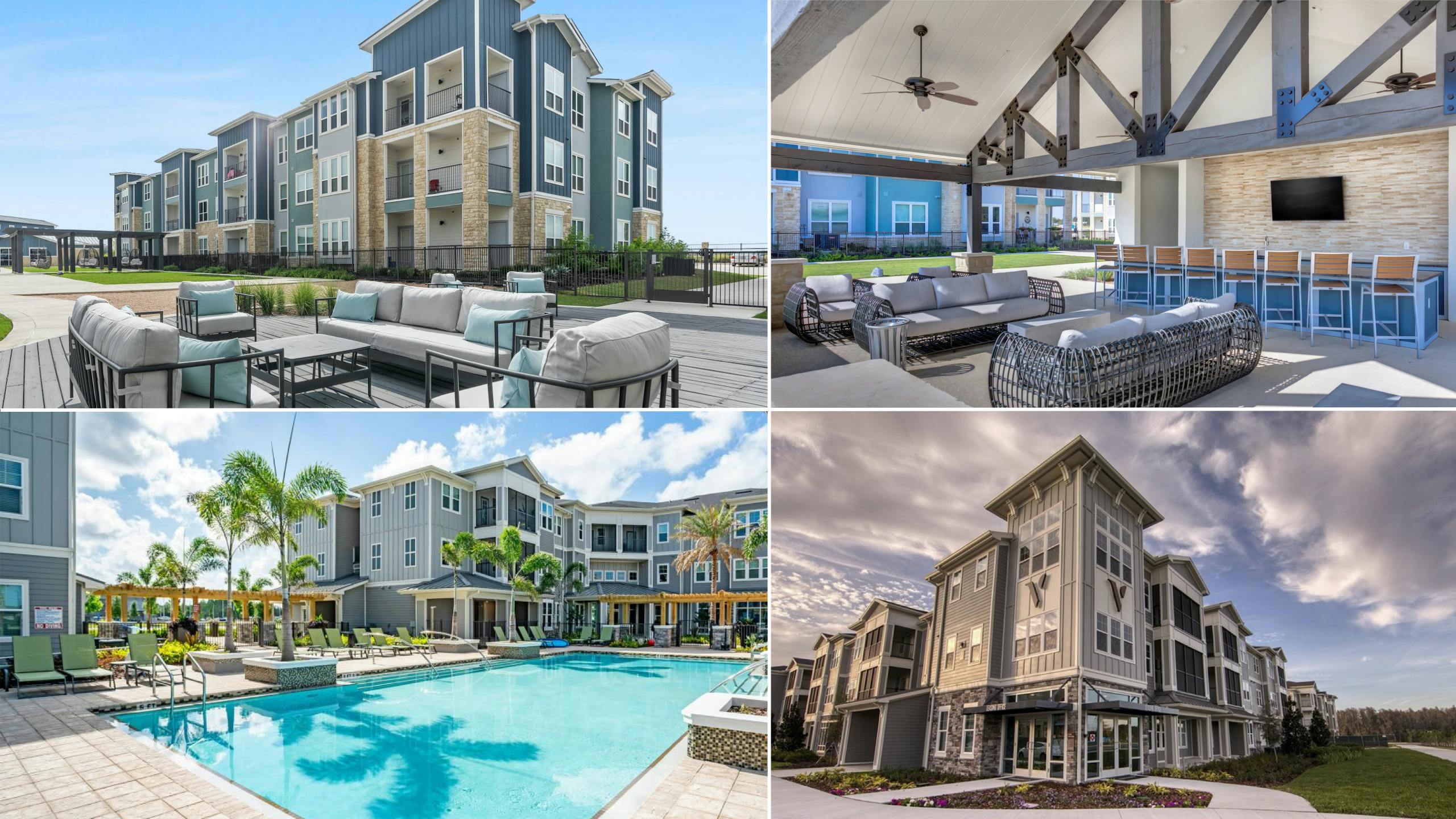 Potential new acquisitions under contract
We're already looking ahead to another two potential acquisitions of apartment communities in the upcoming months — as always, investors can expect to receive timely updates about any future acquisitions.

	


        


            


                


                    
                        
                            
Community3

                            
Est. investment3

                            
Unit count

                            
Market rent growth2

                        
                    
                    
                        
                            
New acquisition
Orlando, FL

                            
$42 million

                            
300

                            
0.7%

                        
                        
                            
New acquisition
Charleston, SC

                            
$27 million

                            
276

                            
2.6%

                        
                        
                            

Overall

 

Total


                            
$69 million

                            
576

                            

                        
                    
                


                
            


        


	



Single-family rental
Like our apartment investments, our investments in single-family rental communities stem from a belief that affordably-priced rental housing in growing areas will generate consistently strong returns.
In addition to the general trend of population growth in the Sunbelt, there are two other trends that we believe could contribute to outsized demand for rental homes:
Millennials are starting families and looking for more space. While many will follow in their parents' footsteps and become homeowners, we believe that a significant share will prefer to rent for some period of time for reasons related to convenience and affordability.
Changing social norms around work, shopping, and dining, in some cases brought about or accelerated by COVID-19, have increased the share of renters who prefer the increased privacy and square footage offered by a detached single-family dwelling.
To date, we've acquired batches of newly-built, vacant homes in seven communities. By purchasing these homes in volume directly from homebuilders and leasing them up ourselves to assemble stabilized communities, we believe we can get better prices — and therefore the potential for better returns — than if we purchased the "finished product."
Single-family rental portfolio
As of March 31, 2021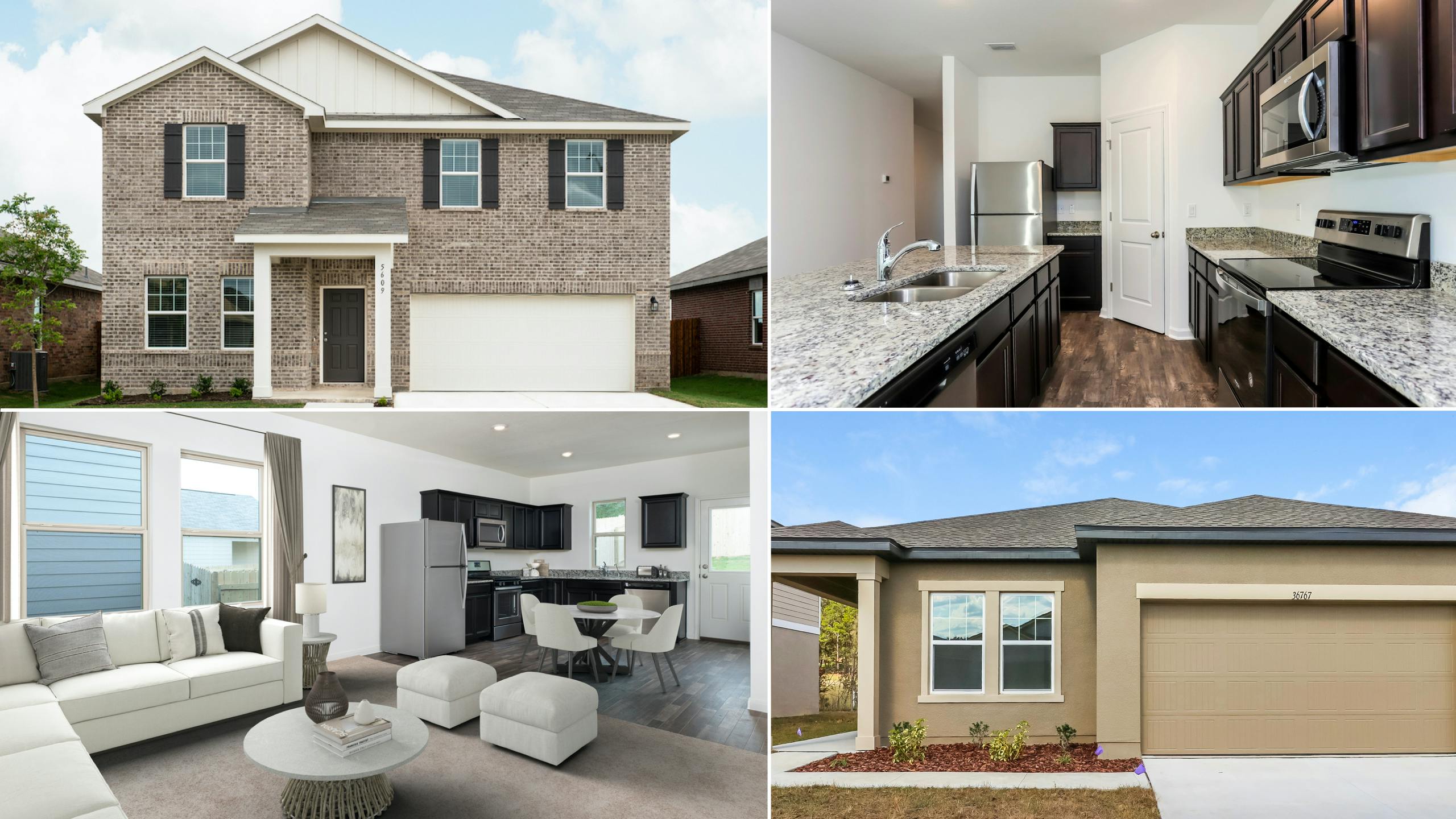 Community

                            
Investment

                            
Our price
 per home

                            
Retail price
 per home4

                            
Discount
 to market

                        
                    
                    
                        
                            
The Estates at Fort King
Dade City, FL (Tampa)

                            
$8.6M (33 homes)

                            
$251,070

                            
N/A5

                            
N/A5

                        
                        
                            

                                Windmill Farms

                                Lavon, TX (Dallas)
                            

                            
$5.5M (26 homes)

                            
$202,814

                            
$242,823

                            
16.5%

                        
                        
                            
Crestridge Meadows
Forney, TX (Dallas)

                            
$4.7M (20 homes)

                            
$224,698

                            
$259,429

                            
13.4%

                        
                        
                            
Trinity Crossing
Forney, TX (Dallas)

                            
$0.9M (4 homes)

                            
$207,240

                            
$212,740

                            
2.6%

                        
                        
                            
Hidden Creek6
Zephyrhills, FL (Tampa)

                            
$1.3M (5 homes)

                            
$255,220

                            
$265,483

                            
3.9%

                        
                        
                            
Riverstone6
Lakeland, FL (Tampa)

                            
$2.0M (9 homes)

                            
$215,783

                            
$248,145

                            
13.0%

                        
                        
                            
Homestead Estates6
Elgin, TX (Austin)

                            
$2.1M (9 homes)

                            
$220,776

                            
$260,300

                            
15.2%

                        
                        
                            
Oak Ridge6
Fort Worth, TX

                            
$2.1M (8 homes)

                            
$256,525

                            
$290,186

                            
11.6%

                        
                        
                            

Overall

 

Total


                            
$27.1M (114 homes)

                            

                            

                            

                        
                    
                


                
            


        


	



We've seen strong early results from our leasing efforts, with more than a quarter of the homes we've acquired having already secured tenants.
Potential new acquisitions under contract
While we are excited about the progress made to date within this strategy, we believe that the true value creation will come from building out a portfolio of homes that can achieve operating economies of scale. To do so, our team has been focused on developing a systematic approach for buying and leasing the homes, with the goal of reducing costs and efficiently deploying capital.
The majority of our current portfolio and pipeline includes homes that we have bought or intend to buy directly from the homebuilder when they deliver. To diversify our approach and help ensure a healthy pipeline of new homes to add to the portfolio, we're also starting to invest directly in the construction of these homes. The first example of this new approach is a 5-acre property in Houston that we recently acquired for roughly $16.2 million, with plans to spend an additional $12.5 million to build 78 townhomes on the site. We expect these homes will deliver over the next 14 months, creating another stream of homes in our pipeline.
With systems in place to buy or build, we aim to scale up the portfolio to more than 2,000 homes for lease in 12 markets over the next 12 months.³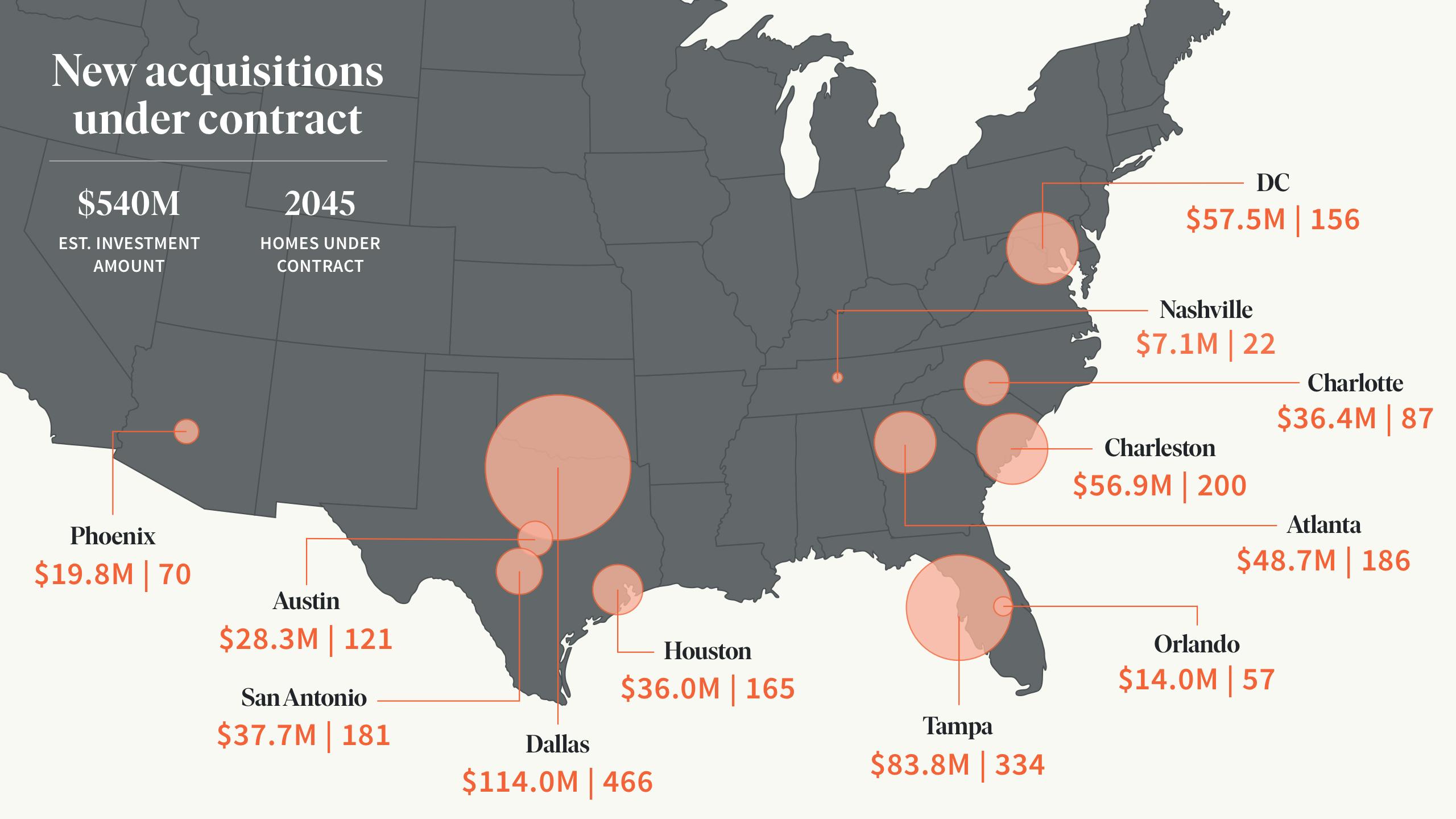 These properties are under contract by a wholly owned subsidiary of Rise Companies. While we expect to close on these properties in the coming months, there can be no guarantee. All values are estimates.
What this means for our investors' portfolios
If you've been following us for some time, you've likely heard us say that real estate, as a long-term illiquid investment, differs from the stock market, in that its returns are expected to start out lower and increase over time.
Investors who joined the platform since the start of the new year may experience an even more pronounced pattern of lower returns early on, since a significant portion of their portfolios are being allocated to the new flagship product.
Much like planting seeds in the spring in anticipation of a harvest later in the year, the progress of a real estate portfolio during its ramp up phase should be measured by the potential for future value creation that is being sown by the acquisition of new properties and the commencement of their business plans. To begin to see results, investors must have the patience to let those plans — and time itself — work on their behalf.
We look forward to continuing to provide our community with frequent updates on new acquisitions and progress of the projects in our investors' portfolios.