Editor's note: Anytime we mention investment performance in this article, it applies only to historical returns, only for the time frame defined, and only in regards to the Fundrise offerings specified by the article.
One year ago, we began our annual letter noting the relative strength of our 2018 Fundrise overall platform performance of 9.11%1 versus that of the broader stock market at -5.13%2 (as measured by the Vanguard Total Stock Market ETF) and public REITs at -5.95%2 (as measured by the Vanguard Real Estate ETF).
We discussed our concerns around the stability of the economy and the potential headwinds that would result from the Fed's determination to normalize monetary policy by unloading its balance sheet while simultaneously raising interest rates. Consequently, we outlined our intentions to deploy into what we felt were more conservative investment assets with better intrinsic value.
As is often the case, the future can be surprising.
Not only did the Fed not raise rates in 2019, they instead made a sharp 180-degree course change, lowering the target Fed funds rate three times and re-initiating a new form of quantitative easing by providing their balance sheet liquidity directly into the financial system's repurchase (repo) markets.
The result… the stock market was up a whopping 30.80%² over the last year, reaching all-time record highs, with similar performance from public REITs. At the same time, Fundrise ended 2019 with an overall net return of 9.47%¹.
Of course 9.47% is not 30.80%. And that, in many ways, is the point.
In 2018, stocks produced an approximate -5% return while Fundrise returned just over 9%. Last year the stock market produced an approximate 31% return while Fundrise returned over 9% again.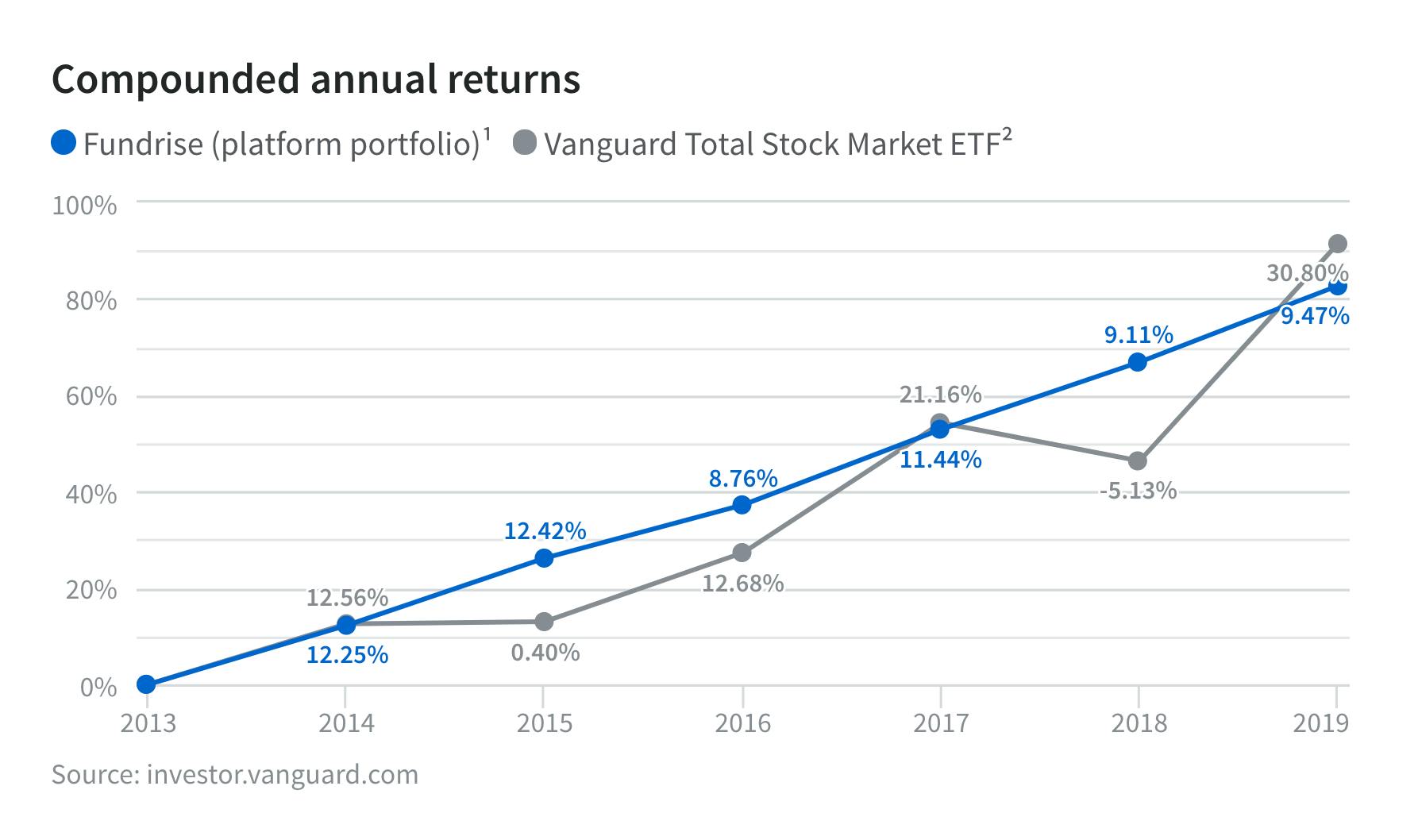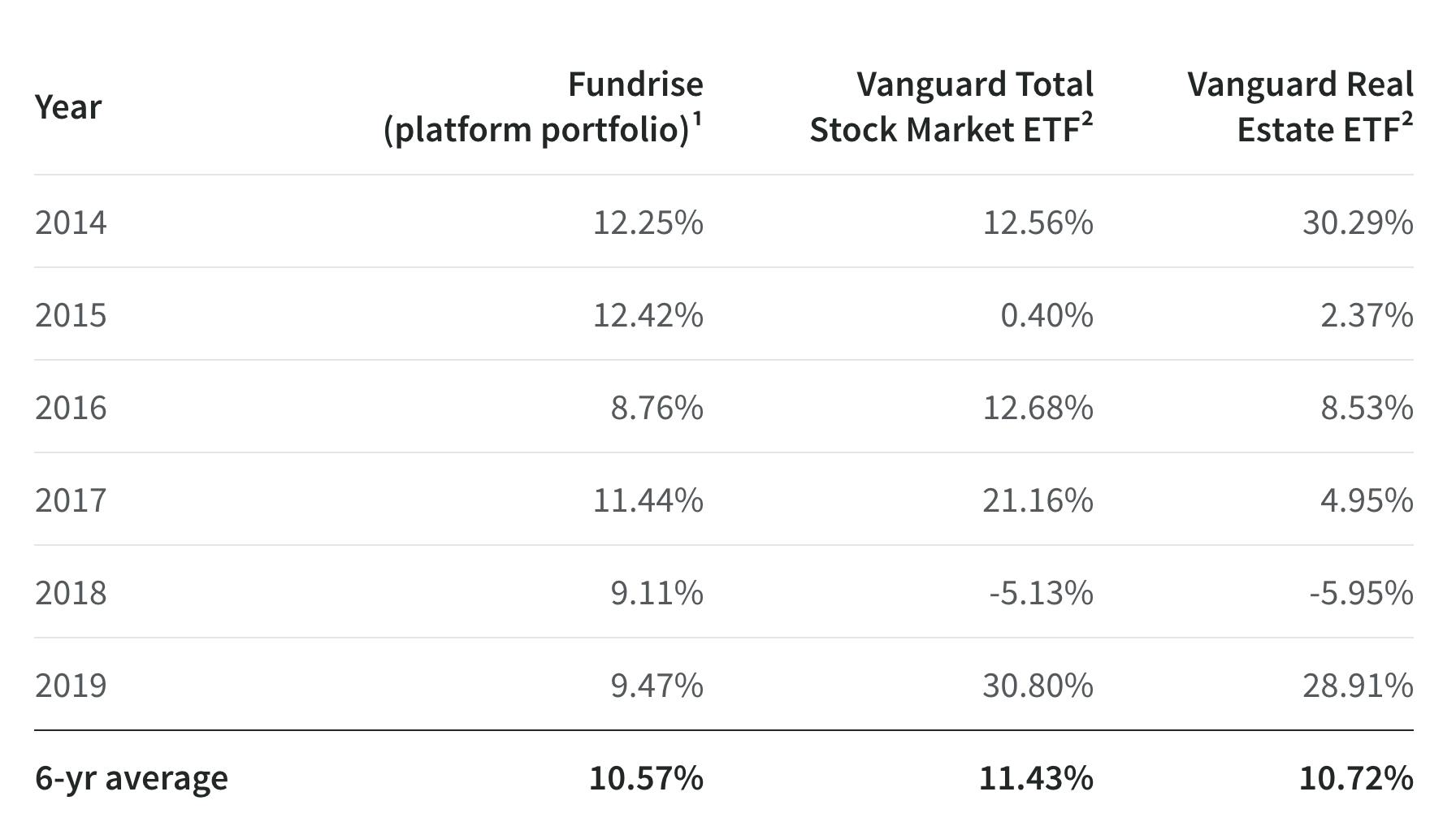 To be clear, the overall return across the Fundrise platform is not necessarily representative of any individual investor's performance. The performance of investors' accounts is likely to vary depending on when they invested and the allocation of their portfolios.
Learn more about how returns work on Fundrise >
From the beginning, we've sought to provide investors with better, more consistent returns over the long term, so we structure our investments with the intention to do just that. In fact, it's highly unlikely that the way in which we invest would return 30% in a single year. To achieve such short-term returns in real estate would require taking on what we believe to be an unadvisable level of risk. So, while the investments we pursue are unlikely to return 30% annually, we believe that even in a downturn they are just as unlikely to risk a comparable principal loss by swinging wildly in the opposite direction.
More consistent over the long term. That's the operating principle.
Because our goal is long-term consistency, we devote a considerable amount of time and energy to identifying and understanding the macroeconomic drivers that have the greatest probability of impacting the broader real estate market for the next several years to a decade.
Our view: consensus-driven asset now priced even further out of line with economic fundamentals
Looking ahead, we continue to have a very similar outlook as we've had in years past. Asset prices, by almost any measure, are more expensive today than they were 12 months ago. To use the stock market as a convenient example, you'd be hard-pressed to ignore the fact that prices were up nearly 30% in 2019, while earnings remained essentially flat.
We were hesitant to be a long-term buyer of consensus-driven assets at last year's prices. Now we're only that much more resistant to pay a 30% higher price for the same assets today.
Some may call this approach too conservative, but our belief is that the investors who have achieved consistent success spanning multiple decades tend to spend more time protecting against the downside than they do regretting the upside they may have missed.
As those who have been with us over the years have undoubtedly heard us say before:
We are wary when broader market sentiment is overwhelmingly positive and caution against assuming current trends cannot reverse unexpectedly, especially when everyone starts to believe they won't.
It's entirely reasonable that prices may remain elevated for an extended period of time due to a permanently low-interest-rate environment (or at least that's now the popular viewpoint). While there are good arguments for this belief, it sounds suspiciously like the "this time is different" refrain from bubbles past.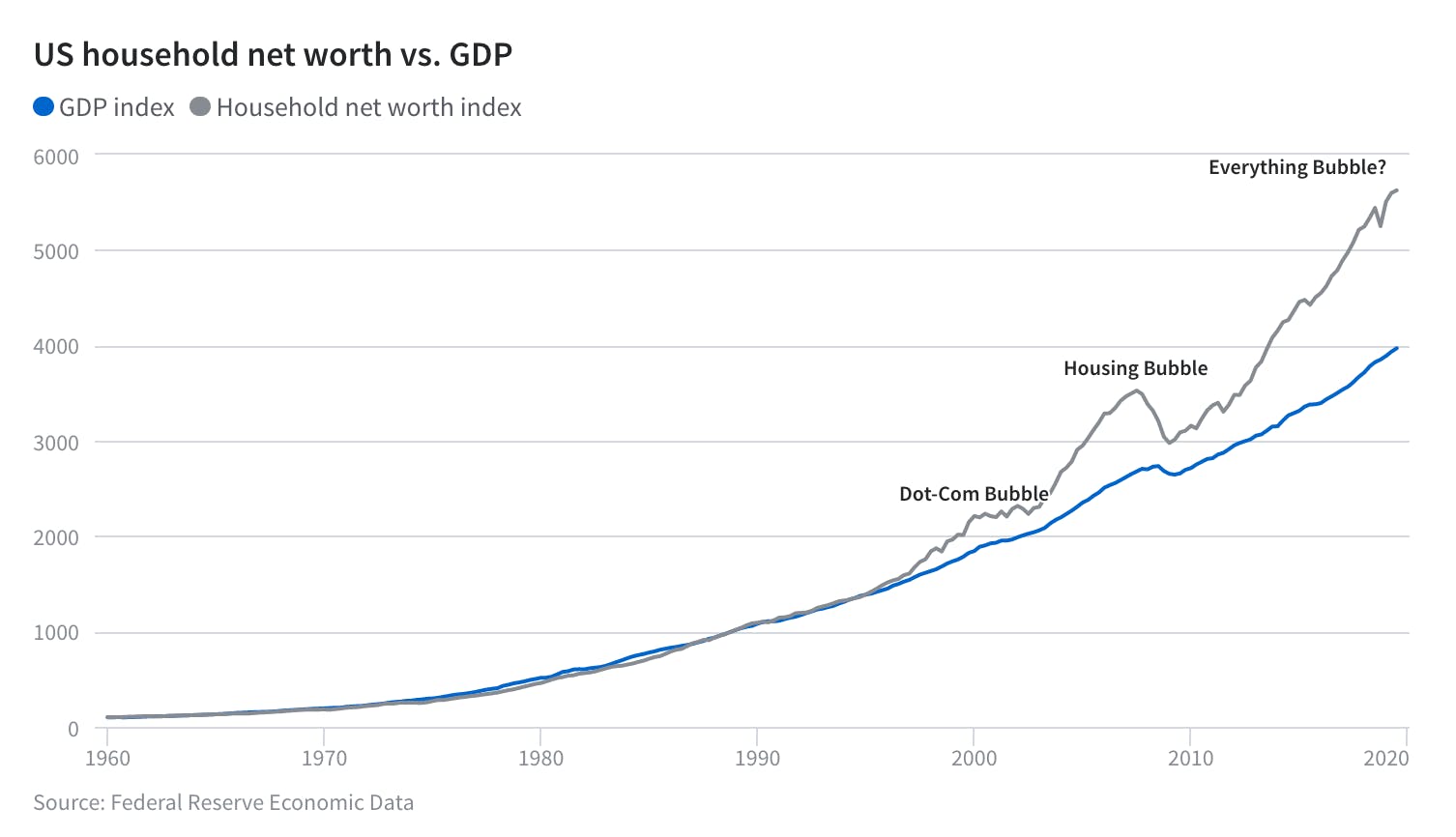 So how then do we think about where to invest?
As we've stated previously, we believe that:
Major macro trends are the primary drivers of long-term real estate returns.
By identifying these fundamental drivers, we can capture opportunities that will produce reliable, strong returns that are less correlated to public stocks and bonds.
What then will be the predominant drivers of the new decade? Though we can't be certain, it's reasonable to assume that what mattered most in the 2010s will be different in the 2020s. Decades seem to develop their own narratives that define each era — the tech bubble and globalization in the 1990s, the housing bubble and radical fundamentalism in the 2000s, and the long economic recovery and populism of the 2010s.
In translating these powerful movements into actionable strategies, we tend to rely on a fairly basic framework of "who, what, where."
Who, meaning specific, observable segments of the population that will be driving increased demand.
What, meaning for what type of real estate will they be driving demand.
Where, simply meaning where will they be driving demand for this type of real estate.
To illustrate the point, let's look at the 2010s. Almost inarguably the most successful real estate investment of this period was: millennials (who), multifamily (what), major metro markets (where) — in other words, apartments geared towards young adults in big cities and close-in suburbs was (from a risk/return standpoint) the best investment one could have made. In retrospect, this should have been obvious when looking at demographics, as the millennial "echo boom" was graduating from college and wanted to live in vibrant urban environments, but could not afford to buy.
A close second for best strategy was: tech companies (who), industrial or data centers (what), and major metro markets (where) — this strategy leveraged technology's transformation of the rising generation's consumer preferences that reshaped retail and media distribution over the past decade.
One of the worst strategies was likely: Baby Boomers (who), traditional retail (what) — think dead malls with aging brands and outmoded shopping patterns, in distant suburbs (where).
The question then is "who, what, where" for the 2020s.
In spending time analyzing and debating, we've determined that sharing the entirety of our thinking on the subject is simply not feasible in a single letter — however, we believe that doing so is important not only because we think many investors will find it interesting, but because it is in line with our values as a company.
So, over the coming months, we intend to share a multi-part series of letters that will delve into the major macroeconomic drivers we believe are important. The goal being to both share our views and, equally as important, to gather yours, as we seek to craft the best strategies for the coming decade.
Below are three of the dominant drivers we believe will have a major impact in the coming decade:
Aging and declining populations
Regional and economic disparity
Aggressive monetary reflation
What is your perspective for the "who, what, where" of the 2020s?
In closing
We deeply appreciate our investors' continued support as we work to transform the investment industry. Our goal has and will continue to be to build a better financial system for the individual investor — one that is simpler, more reliable, lower cost and transparent. We've made a great deal of progress towards that end, surpassing 100,000 active investors over the summer and $1 billion in equity under management just after the turn of the new year.
Onward,
The Fundrise Team
———
P.S. As we contemplate and prepare for a potential downturn, we want to reiterate to every potential investor that real estate (and therefore Fundrise) is inherently a long-term, illiquid investment. While our programs strive to provide early liquidity to investors who need it, we expect that we may limit or suspend redemptions in certain scenarios, such as during a financial crisis. In such a scenario, we must first consider the interests of all investors, and therefore may determine it is prudent to hold a higher level of liquidity given the uncertainty. Similarly, it would likely take additional time to reset net asset values (NAVs) if market conditions were to vary rapidly.
As always, please don't hesitate to reach out to investments@fundrise.com with any questions or comments.