Every Fundrise portfolio aims to diversify with a broad mixture of properties. Here's an example of one deal that has powered investors' portfolios, having successfully completed the full investment process. You can view all active and past projects here.
Elysium Fourteen is a luxury, 56-unit apartment building in Washington, DC, located at the juncture of the U Street and 14th Street corridors — one of the capital's thriving hubs for shopping, dining, and nightlife. In addition to the building's residential units, the property features premium ground floor commercial space, which today hosts some of the neighborhood's most popular retail spots.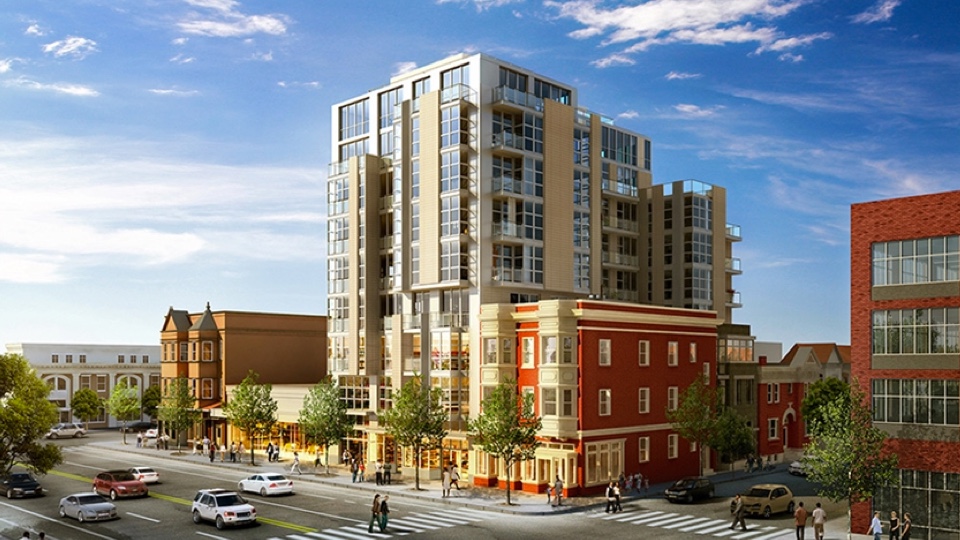 Fundrise invested in the development of Elysium in May 2016, in the form of preferred equity, which behaves like debt. Upon completion of construction, the borrower successfully leased up the building's residential and retail spaces, before securing longer-term, lower-rate financing. In July 2018 our investment concluded and the project paid back to Fundrise successfully, earning an internal rate of return of approximately 11.4%.
Through the duration of our investment, Elysium Fourteen developed smoothly and drove strong performance. In an August 2017 update to our investors, we were pleased to report that Elysium was fully stabilized, having successfully leased more than 96% of its residential units to tenants.
In the process, Elysium commanded impressive rents, well in excess of our original baseline projections. As of July 2017, the average market-rate rent at the property was roughly $4.16 per square foot — more than 10% above the projection of $3.76 per square foot on which the investment was underwritten.
We believe the demand and high rents for Elysium's luxury units were at least partially bolstered by local demographic growth: during our investment period, the census tract in which Elysium is located boasted a median household income of nearly $150,000 according to the U.S. Census American Community Survey (ACS). This represented a 52% increase from 2010, a jump that today helps showcase our team's foresight and understanding of sound market fundamentals when we originally chose to invest.
Washington, D.C. — Stabilized Commercial
Acquired
May 10, 2016
Paid off
July 2, 2018
Fundrise Rating*
D
Realized Return
11.4%
Capital Stack**
Source
Type
%Total
Amount
Madison Investments
Equity
10.3%
$3,546,507
Fundrise
Preferred Equity
18.8%
$6,475,000
United Bank
Senior Debt
70.9%
$24,400,000
Total
—
100%
$34,421,507
*Learn more about the Fundrise Rating here.
**Learn more about the Capital Stack here.
Ice cream, athletic apparel, and eco consciousness: a millennial haven in DC
Jeni's Splendid Ice Creams occupies the corner retail space on Elysium's ground floor.
Elysium Fourteen is LEED (Leadership in Energy and Environmental Design) certified and was built using eco-friendly construction. The property offers a range of studio, one-bedroom, and two-bedroom units featuring high-quality finishes, along with balconies for many of the floorplans. The property is pet-friendly, and amenities include a VIP lounge, outdoor terraces with grills, and bicycle storage.
Also crucial for many tenants, the property is a stone's throw from the U Street metro station — less than a five minute walk away — and there's a Trader Joe's directly right across the street. The wider neighborhood is dotted with popular bars, clubs, and even Michelin Star-winning restaurants: on weekends the area pulses with lively, hip street life.
While Elysium enjoys robust demand on the residential front, the property's ground level is also a highlight of the neighborhood. The property's retail space hosts a Lululemon storefront — the multi-billion-dollar-revenue athletic apparel company — alongside popular fitness franchise Orangetheory, and Midwest-based artisan ice cream vendor Jeni's Splendid Ice Creams.
Elysium's block sits at the peak of a high-foot-traffic area, frequented by affluent Millennials, many of whom have come to DC thanks to high-growth-potential career opportunities. Local tech and consulting businesses have flourished in the district throughout the 2010's, attracting a transformative influx of professionals. The four nearest census tracts feature a combined annual buying power in excess of $930 million, according to ACS data.
From our team
"We know this market really well," says Jared Perlmutter, Senior Associate on Fundrise's real estate team. "We love the location of this project: it's a Class A, institutional asset, right in the heart of a growing market. It was also across the street from projects by other highly respectable developers and investors, which was a good sign. We invested in this deal at a time when we could safely anticipate — correctly — major demand in this area. We were confident that there was no major construction risk and the value was already created."
Driving investor growth through a neighborhood's rejuvenation
This project is an excellent example of how getting "ahead of the curve" of an area's growth can produce attractive-risk adjusted returns.
After decades of relatively slow growth, the 14th Street corridor began its current renaissance in 2000, ignited by the opening of a major Whole Foods at the area's southern end. However, the northern section — where Elysium is located — was slower to redevelop… leaving that particular area ripe with potential.
Our team recognized this development pattern and saw an opening for an opportunistic investor to earn an above-market return, with what we considered to be a relatively low risk. Important factors were already present: this was a chance to drive the revitalization of an iconic street in our nation's capital, powered by a broad demographic shift toward walkable, urban living.
Structured as preferred equity, our investment behaved like debt, where the project's sponsor must pay us a fixed rate of return before they can earn a return for themselves, and their equity provides us with a cushion against losses. Throughout the term of the investment, the regular income the investment generated has supported quarterly dividends for Fundrise investors.
As we remain cognizant of our current economic climate — late in the expansion phase of the economic cycle — we continue to focus on debt and debt-like investments in an effort to fortify investors' Fundrise portfolios for times of turbulence, while preparing to aggressively pursue future opportunities that may arise as a result of that same turbulence.
Ultimately, in Elysium Fourteen we saw what we believed to be a unique opportunity, anchored by strong fundamentals and fueled through the exciting story of a historic neighborhood's revitalization and reinvention. We're proud to have been part of that regrowth, and, through our investment, to have delivered to our users a successful project with strong returns.
Have any questions or want to learn more? You can always reach out to our team by emailing us at investments@fundrise.com.
Ready to invest in a real estate investment portfolio of your own? You can get started here in a matter of minutes.